10 Days 9 Nights Masai Mara Nakuru, Naivasha, Amboseli And Tsavo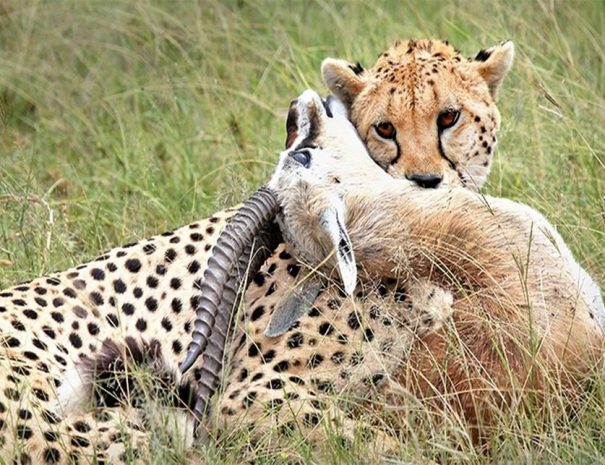 DAY 1: Nairobi – Masai Mara
You will be picked from your residence. Depart for Maasai mara national reserve, on your way have a stop over at the great rift valley to enjoy the amazing views of the largest Valley in the world, said to be visible from outer space for photos and souvenirs. Arrive in time for check in and a relaxed lunch, afterwards head for your first game drive during the safari which will take place in the afternoon between 1600hrs to 1830hrs, on this game drive you will get the final catch of animals while they are out of their hides to get their last meal of the day and sun bathing especially the reptiles. Kobs and other animals that graze will be assembling for their resting. In the evening you will have dinner and spend the night at Budget camp/ Enkorok mara camp
DAY 2 : Masai Mara National Park
On this day you will be treated to a full day game drives within this expansive Reserve teeming with wildlife. The area we will visit today is one of the richest predator areas of the Mara and will be our focus. You can also expect to see lots of elephants, hippos, Masai giraffe, common zebra, wildebeest, impala, Thompson's and Grant's gazelles, topi, black-backed jackal, spotted hyena and more. You will be treated to a bush picnic lunch and then return to the camp (continuing your game drive enroute). Meal Plan: Full Board Accommodation: Mara camp Enkorok
DAY 3: Masai Mara National Park – L. Nakuru National Park
You will have breakfast, check out from your hotel, head for lake Nakuru national park, arrive in time for lunch and an afternoon game drive. Nakuru meaning "dust or dusty place". One of the floors of the great rift valley surrounded by wooded and bushy grassland, is where the Park lies. This beautiful haven is ideal for bird watching, picnic, hiking, and game drives. The place is attractive due to its numerous flocks of flamingoes, that are hosted by the algae that spreads in the lake this supporting the nesting grounds of the birds, there are also birds like the pelicans, avocets, ducks a total of 400 species of birds recorded in the park. Apart from the birds it's a home to rhinos, lions, cape buffalos, zebras, waterbucks, African wild dogs and lions. Etc. other attractions include the hills, Makalia waterfall and unique vegetation. Dinner and spend the night at Buhari zenoni Resort budget / ziwa bush lodge.
DAY 4: L. Nakuru National Park – Naivasha
After breakfast, you will drive into the rift valley arriving on the shores of Lake Naivasha in time for lunch. The Lake Naivasha ecosystem is comprised of the saltwater lake, savannah grasslands and acacia forest. The lake supports a wide variety of water birds and different species of mammals including the giraffe, hippo, antelopes and others. You will have an option of enjoying a cycling at Hells gate National park or taking a boat- ride on Lake Naivasha before returning to your lodge for dinner and your overnight stay. Meal Plan: Full Board Accommodation: Camp Carnelley's or https://naivashawestbeachcamp.co.ke/
After Breakfast, depart for Mount Longonot For a morning hike with packed lunch later return to the camp for relaxation: Full Board Accommodation: Camp Carnelley's
Day 6: Lake Naivasha – Amboseli National Park
Early morning breakfast and depart Naivasha if possible by around 0630hrs, this will help us drive early enough with less traffic on the road and you will be able to make it to Amboseli by around 2 pm because you will have 2 stopovers on the way. Check-in at Sentrim Amboseli for lunch. Refresh and later depart for an afternoon game drive at the famous Amboseli national which is home to the largest elephants we have around, it's also a photogenic park with the backdrop of Mt Kilimanjaro which is the highest in Africa. AA LODGE AMBOSELI
Day 7: Full Day at Amboseli National Park
Early morning game drives so that you can have a chance of spotting earlier missed game and see animals when they are most active, later return to the lodge for breakfast and later in the afternoon depart for an afternoon game drive. Alternatively, you can depart to the park after breakfast with picnic lunch boxes and spend the whole day in the park returning to the lodge in the late afternoon. Dinner and overnight at the lodge.
Day 8: Amboseli National Reserve – Tsavo West National Park
After breakfast, head for Tsavo west national park arriving in time for lunch and an afternoon game drive. The park is known for being a home of the elephants, hippos, cheetahs, leopards, buffalos, diverse plants, and bird species including the threatened corncrake and near threatened Basra reed warblers. Apart from that the Tsavo west has the Ngulia sanctuary, this is where the growing population of highly endangered black rhinos is saved from extinction. Apart from that the park has a variety of sceneries like the mzima spring which is a sight of fifty million gallons of clear water coming out from the under-parched lava rocks, the shetani Lava that formed the volcanic arena spewed from the ground and its fiery fury was thought by locals to be the devils doing and finally has a magical scene of the sun setting. https://safari-hotels.com/ngulia-safari-hotel/
DAY 9: Tsavo west National Park – Tsavo East National Park
After breakfast check out from the lodge with the game drive en-route and drive to Tsavo East National park. You will check in at the lodge for lunch. Later depart for an afternoon game drive. The park has a variety of fauna that includes the aardwolf, buffalo, the Tsavo lions a population whose adult male often lacks a mane, gazelles, duikers' eland, the giraffe, spotted and striped hyena, wild dogs, impalas, leopard, different species of primates, the plain and the gravy's zebra, hartebeest, and has 500 bird species recorded including ostriches, kestrels, buzzards, weaver birds, kingfishers, hornbills, secretary birds, and herons. Meal Plan: Full Board Accommodation at your lodge. https://safari-hotels.com/voi-safari-lodge/
Day 10: Amboseli National Park – Lamu via Nairobi
After breakfast, check out and bid the camp goodbye as you enjoy extra game viewing en route to Nairobi. Once you arrive in Nairobi you will be transferred to the airport for your flight to Lamu
Full board accommodation on safari (lunch, dinner, bed and breakfast)
Safari Transport in a pop-up roof tour van or a 4 x4 Landcruiser.
Hiking at Longonot inclusive of a guide and drinking water
Cycling at hells gate
Park fees applicable
Drop off at the airport in Wilson for your flight to Lamu
Bottled drinking water on safari
Services of a professional tour guide
Extras at the hotel
Tips and gratitude's