11 Days Big Five Trail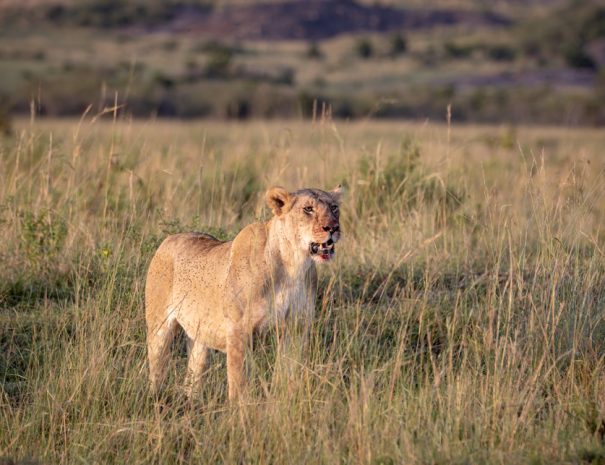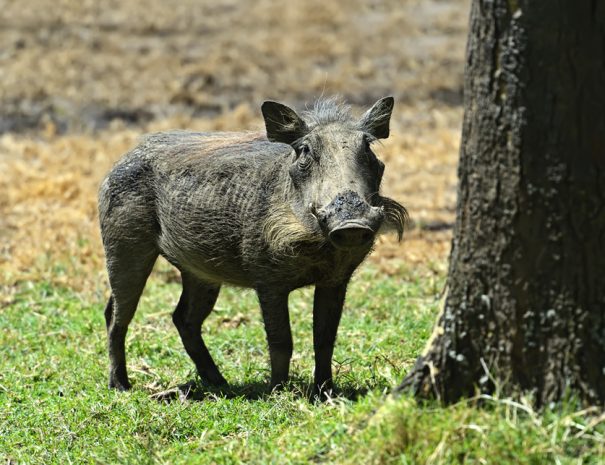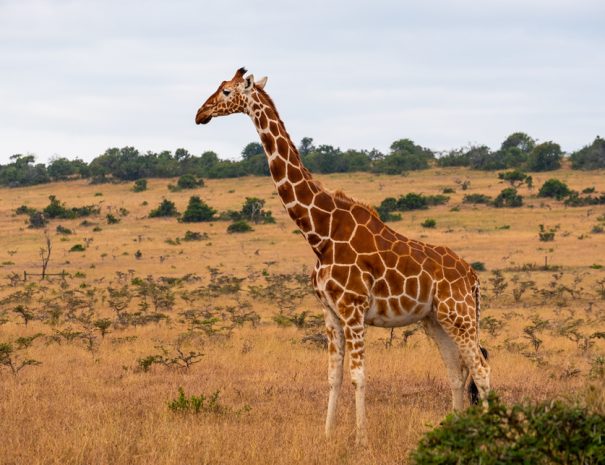 Experience the magic of Kenya with this 11 days safari that takes you to the North, Central, and South of this beautiful land.
Today you will be picked up from your hotel at Nairobi/ Airport by one of our safari representatives, who will give you a short introduction and briefing on your upcoming safari. After your safari briefing you, will head north through an agricultural region that is rich with coffee, wheat and various other crops. You will cross the equator at Nanyuki and continue north before descending from the cool highlands into the wildlife rich savanna woodlands. Arrive at Samburu National Reserve in time for lunch and an afternoon game drive. The Samburu is one of the lesser-known Kenyan national parks, but is nevertheless teeming with wildlife. Situated alongside the Ewaso Nyiro River, there is plenty here to attract animals from the surrounding savanna plains. The reserve is home to an abundance of rare northern species such as the Grevy's zebra, Somali ostrich, reticulated giraffe, gerenuk and the beisa oryx (also referred to as the "Samburu Special Five"). Meal Plan: Full Board Accommodation: Ashnil Samburu Camp
Enjoy an early morning game drive in Samburu. The morning is the most ideal time for game viewing, and your guide will make certain to search for the elusive leopards and lions along the way. Return to your lodge for breakfast and then spend the remainder of the day at your leisure. In the evening, you will go on another game drive early evening in search of the abundant wildlife at Samburu. Alternatively you can depart after breakfast with picnic lunch and do a full day game drives , returning to the camp later afternoon. You will encounter and learn more about the wildlife species roaming this reserve. On a typical game drive you are bound to come across Leopards, Elephants, Lions, Giraffe, among other wild species. After your evening game drive, you will return to your lodge for evening rest and dinner. Meal Plan: Full Board Accommodation: Ashnil Samburu Camp
After breakfast, depart from Samburu with a game drive en route driving to Nanyuki Arrive at the Comfort Garden O Pejeta in time for lunch and afternoon rest. Ol Pejeta is the only place in Kenya to see chimpanzees. You will have an early evening game drive around the Ol Pejeta Conservancy returning to your camp in time for dinner. Meal Plan: Full Board Accommodation: in a camp/ lodge.
DAY 4: Ol Pejeta- Lake Nakuru
Breakfast, check out from your hotel, head for lake Nakuru national park, arrive in time for lunch and an afternoon game drive. Nakuru meaning "dust or dusty place". One of the floors of the great rift valley surrounded by wooded and bushy grassland, is where the Park lies. This beautiful haven is ideal for bird watching, picnic, hiking, and game drives. The place is attractive due to its numerous flocks of flamingoes, that are hosted by the algae that spreads in the lake this supporting the nesting grounds of the birds, there are also birds like the pelicans, avocets, ducks a total of 400 species of birds recorded in the park. Apart from the birds it's a home to rhinos, lions, cape buffalos, zebras, waterbucks, African wild dogs and lions. Etc. other attractions include the hills, Makalia waterfall and unique vegetation Dinner and spend the night.
DAY 5 Nakuru – Maasai Mara
Have an early morning game drive, get back to your hotel for breakfast then check out. . You will drive into Masai land, tracing the Rift Valley escarpment and wild open plains before stopping at the Masai town of Narok. From here you will make your way into the park, arriving in time for lunch and an afternoon game drive. This is one of Kenya's most visited reserves due to its extraordinary wildlife density, including the "big five" and many other varieties of plains game. The Mara River cuts through the Mara and Serengeti ecosystems, giving life to both reserves before finally pouring out into the Lake Victoria. Impressive and most notable are the wildebeest, zebra and gazelle that migrate by instinct from the Serengeti in Tanzania to the Masai Mara in Kenya. This journey is coupled by numerous obstacles, which makes it even more magnificent.
On these days you will be treated to full-day game drives within this expansive Reserve teeming with wildlife. The area we will visit today is one of the richest predator areas of the Mara and will be our focus. You can also expect to see lots of elephants, hippos, Masai giraffe, common zebra, wildebeest, impala, Thompson's and Grant's gazelles, topi, black-backed jackal, spotted hyena and more. You will be treated to a bush picnic lunch and then return to the camp.
DAY 8 Maasai Mara – Naivasha
Breakfast, check out from your hotel, head for Naivasha, have lunch in Naivasha then head for an afternoon Boat ride on Lake Naivasha. Dinner, spend the night. Lake Naivasha is a fresh water lake in Kenya, outside the town of Naivasha in Nakuru county, which lies north west of Nairobi in the great rift valley. The name Naivasha was derived from "Nai-posha" meaning rough water because of the sudden storm which can rise. The lake is also a home to a variety of 400 different species of birds and a sizeable population of hippos.
Day 9: Lake Naivasha – Amboseli National Park
Early morning breakfast and depart Naivasha if possible by around 0630hrs, this will help us drive early enough with less traffic on the road and you will be able to make it to Amboseli by around 2 pm because you will have 2 stopovers on the way. Check-in at Sentrim Amboseli for lunch. Refresh and later depart for an afternoon game drive at the famous Amboseli national which is home to the largest elephants we have around, it's also a photogenic park with the backdrop of Mt Kilimanjaro which is the highest in Africa. Dinner and overnight at Sentrim Amboseli.
Day 10: Full Day at Amboseli National Park
Early morning game drives so that you can have a chance of spotting earlier missed game and see animals when they are most active, later return to the lodge for breakfast and later in the afternoon depart for an afternoon game drive. Alternatively, you can depart to the park after breakfast with picnic lunch boxes and spend the whole day in the park returning to the lodge in the late afternoon. Dinner and overnight at the lodge.
Day 11: Amboseli National Park - Nairobi
After breakfast, check out and bid the camp goodbye as you enjoy extra game viewing en route to Nairobi. Once you arrive in Nairobi you will be transferred to the airport, your residence or your hotel of choice.
10 nights accommodation according to meal plan
11 days transport with a land cruiser
Services of a professional tour guide/ driver
Unlimited game drives
Drinking water throughout the safari
Amref flying Doctors
Park fees
Tips and gratitude
Extras at the hotel