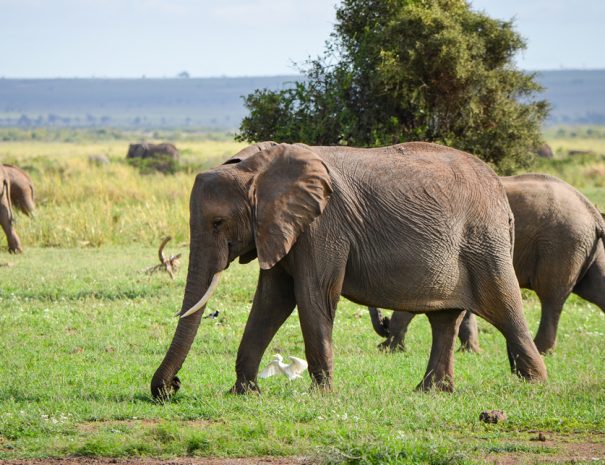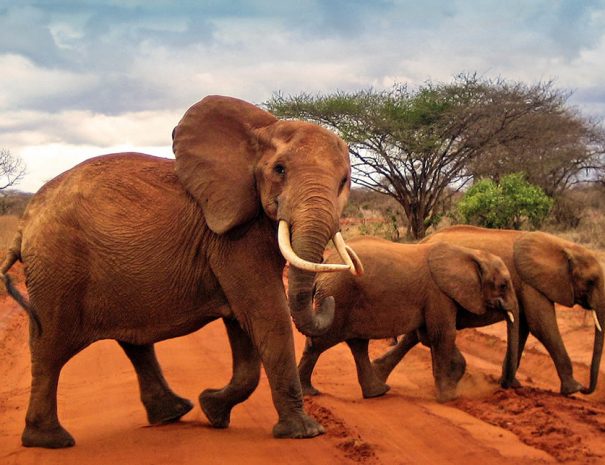 This is a safari for elephant lovers and fully concentrates on destinations where elephants are either in their natural habitats or in conservation. You will get have a close encounter with elephants and if lucky can also adopt an elephant.
DAY 1 NAIROBI -MERU NATIONAL PARK
Pick up from the airport by one of our safari representatives, who will give you a short introduction and briefing on your upcoming safari. After your safari briefing you will head north through an agricultural region that is rich with coffee, wheat and various other crops. You will cross the equator at Nanyuki and continue north before descending from the cool highlands into the wildlife rich savanna woodlands. Arrive in Meru National Park in time for lunch and an afternoon game drive dinner and overnight in at IKWETA MERU
DAY 2 FULL DAY AT MERU NATIONAL PARK
After breakfast depart for days game drive with packed picnic lunch in such of elephants and cats that are found in the park. Meru National Park is a Kenyan national park located east of Meru, 350 km (220 mi) from Nairobi. Covering an area of 870 km2 (340 sq mi), it is one best known national parks in Kenya. Rainfall in this area is abundant with 635–762 mm (25.0–30.0 in) in the west of the park and 305–356 mm (12.0–14.0 in) in the east. The rainfall results in tall grass and lush swamps. The park has a wide range of wild animals including the African bush elephant, lion, African leopard, cheetah, eastern black rhinoceros, southern white rhinoceros, Grévy's zebra, and hippopotamus Dinner and overnight at IKWETA MERU
DAY 3 MERU NATIONAL PARK – SAMBURU
After breakfast depart for Samburu en-route a morning game drive. Arrive at Samburu National Reserve in time for lunch and an afternoon game drive. The Samburu is one of the lesser-known Kenyan national parks, but is nevertheless teeming with wildlife. Situated alongside the Ewaso Nyiro River, there is plenty here to attract animals from the surrounding savanna plains. The reserve is home to an abundance of rare northern species such as the Grevy's zebra, Somali ostrich, reticulated giraffe, gerenuk and the beisa oryx (also referred to as the "Samburu Special Five"). Meal Plan: Full Board Accommodation ASHNIL SAMBURU
DAY 4 FULL DAY AT SAMBURU NATIONAL RESERVE
Enjoy an early morning game drive in Samburu. The morning is the most ideal time for game viewing, and your guide will make certain to search for the elusive leopards and lions along the way. Return to your lodge for breakfast and then spend the remainder of the day at your leisure. In the evening, you will go on another game drive early evening in search of the abundant wildlife at Samburu. Alternatively you can depart after breakfast with picnic lunch and do a full day game drives , returning to the camp later afternoon. You will encounter and learn more about the wildlife species roaming this reserve. On a typical game drive you are bound to come across Leopards, Elephants, Lions, Giraffe, among other wild species. After your evening game drive, you will return to your lodge for evening rest and dinner. Meal Plan: Full Board Accommodation ASHNIL SAMBURU
DAY 5 FULL DAY AT RETETI ELEPHANT SACTUARY
After breakfast, set for reteti elephant sanctuary, this place is a Gem in its own as you get to be as close as you can to elephants and have an opportunity to adopt an elephant. The sactuary was set aside by the kenya wildlife service together with the Samburu community to rescue abandoned elephants due to the harsh climatic conditions in the area. Lunch dinner and overnight will take place at the camp. ASHNIL SAMBURU
DAY 6 SAMBURU – OL PEJETA
After breakfast, depart from Samburu with a game drive en route driving to Nanyuki. Arrive at the Comfort Garden O Pejeta in time for lunch and afternoon rest. Ol Pejeta is the only place in Kenya to see chimpanzees. You will have an early evening game drive around the Ol Pejeta Conservancy returning to your camp in time for dinner. Meal Plan: Full Board Accommodation: COMFORT GARDEN
DAY 7 OL PEJETA – NAIROBI
Have an early breakfast depart for the city arrive in time for Shedrick elephant orphanage, The Sheldrick Wildlife Trust operates a digital foster program which allows individuals across the world to support their field projects by fostering an orphaned elephant, rhino or giraffe in their care for themselves or as a gift. For a suggested donation of $50 per orphan per year, individuals receive via email: a personalised certificate, an interactive map, monthly update on the progress of their orphan and a watercolour by CEO Angela Sheldrick. All elephant, rhino and giraffe orphans rescued by the Sheldrick Wildlife Trust are available to foster, including those orphans living back in the wild, and proceeds benefit the Sheldrick Wildlife Trust's conservation projects. Lunch and dinner at a restaurant. Overnight at OLE SERENI
DAY 8 NAIROBI – MASAI MARA
After an early breakfast you will drive into Masai land, tracing the Rift Valley escarpment and wild open plains before stopping at the Masai town of Narok. From here you will make your way into the park, arriving in time for lunch and an afternoon game drive. This is one of Kenya's most visited reserves due to its extraordinary wildlife density, including the "big five" and many other varieties of plains game. The Mara River cuts through the Mara and Serengeti ecosystems, giving life to the both reserves before finally pouring out into the Lake Victoria. Impressive and most notable are the wildebeest, zebra and gazelle that migrate by instinct from the Serengeti in Tanzania to the Masai Mara in Kenya. This journey is coupled by numerous obstacles, which makes it even more magnificent. Meal Plan: Full Board Accommodation ENKOROK MARA
DAY 9 MASAI MARA NATIONAL RESERVE
Today you will be treated to a full day game drive within this expansive Reserve teeming with wildlife. The area we will visit today is one of the richest predator areas of the Mara and will be our focus. You can also expect to see lots of elephants, hippos, Masai giraffe, common zebra, wildebeest, impala, Thompson's and Grant's gazelles, topi, black-backed jackal, spotted hyena and more. You will be treated to a bush picnic lunch and then return to the camp (continuing your game drive en route). Meal Plan: Full Board Accommodation ENKOROK MARA
DAY 10 MASAI MARA – L NAIVASHA
After breakfast, You will drive onto the shores of Lake Naivasha in time for lunch. The Lake Naivasha ecosystem is comprised of a saltwater lake, savannah grasslands, and an acacia forest. The lake supports a wide variety of water birds and different species of mammals including the giraffe, hippo, antelopes and others. You will enjoy a boat ride before returning to your lodge for dinner and your overnight stay at CAMP CARNELLEY'S
DAY 11 L NAIVASHA – AMBOSELI
After breakfast depart for Amboseli arriving in time for lunch. We will head out for an afternoon game drive, which will take place in the afternoon between 16h00 and 18h30. On this game drive, you will get the final catch of animals while they are out of their hides to hunt for their last meal of the day. You will find the reptiles bathing in the sun, while the other animals that graze will be assembling for resting. You will have dinner and spend the night at the camp. AA LODGE AMBOSELI
DAY 12 AMBOSELI NATIONAL PARK
This being a full day at the park, it will be a busy day. There will be an early morning game drive between 06h00 and 09h00 to catch up with the African sunrise. This will always be the most rewarding game drive time, since you will find that the majority of the animals are very active and look for food for the day in the open savannah grassland. Return to your lodge/camp and have a quick breakfast. Later, have a full-day game drive with a packed picnic lunch. Return for dinner and overnight at your camp.AA LODGE AMBOSELI
DAY 13 AMBOSELI NATIONAL PARK – TSAVO WEST NATIONAL PARK
Depart for the massive Tsavo west National Park after breakfast. Arrive at your camp in time for lunch. Have an afternoon at your disposal to relax and freshen up. An evening game drive will follow. Tsavo west national park is called the land of the man-eater because of the two lions that were said to have attacked the builders of the Ugandan railway that was in construction in 1898. Apart from the lion the park is known for being a home of the elephants, hippos, cheetahs, leopards, buffalos, diverse plants and bird species including the threatened corncrake and near threatened Basra reed warblers. Apart from that the Tsavo west has the Ngulia sanctuary this is where the growing population of highly endangered black rhinos are saved from extinction. Apart from that the park has a variety of sceneries like the mzima spring which is a sight of fifty million gallons of clear water coming out from the under parched lava rocks, the shetani Lava that formed the volcanic arena spewed from the ground and its fiery fury was thought by locals to be the devils doing and finally has a magical scene of the sun setting. Meal Plan: Full Board Accommodation SALT LICK
DAY 14 TSAVO EAST NATIONAL PARK
After breakfast you will drive into the tsavo east national park with packed picnic lunch while on the game drive you will get the chance to visit the shedrick elephant orphanage in the tsavo east national park. The park has variety of fauna that includes the aardwolf, buffalo, the tsavo lions a population whose adult male often lacks a mane, gazelles, duikers' eland, the giraffe, spotted and striped hyena, wild dogs, impalas, leopard, different species of primates, the plain and the gravy's zebra, hartebeest, and has 500 bird species recorded including ostriches, kestrels, buzzards, weaver birds, kingfishers, hornbills, secretary birds and herons. Meal Plan: Full Board Accommodation SALT LICK
DAY 15 TSAVO EAST – NAIROBI
After breakfast you will be dropped at the airstrip in mombasa take a flight back to Nairobi jomo kenyatta international airport for your flight back home with an option of driving back to Nairobi.
PEAK SEASON
OFFPEAK SEASON
14 nights accommodation according to meal plan
15 days transport with a land cruiser
Unlimited game drives
Services of a professional tour guide
Drinking water throughout the safari
Park fees
Tips and gratitude
Extras at the hotel