The Masai Mara is a world-renowned safari destination, offering incredible wildlife encounters and breathtaking landscapes. To enhance the experience, numerous lodges and camps have been established in the area, providing luxurious accommodations and unique access to the wonders of the Mara. In this article, we will delve into 13 exceptional lodges and camps that will leave you in awe of their beauty and authenticity.
I. Sanctuary Olonana
Nestled on the banks of the Mara River, Sanctuary Olonana offers a truly enchanting experience. The lodge boasts elegantly furnished suites with private verandas overlooking the river. Guests can indulge in spa treatments, relax in the infinity pool, or enjoy sumptuous meals in the dining area. The highlight of Sanctuary Olonana is its close proximity to the Great Migration, allowing guests to witness this natural phenomenon firsthand.
II. Porini Lion Camp
Porini Lion Camp stands out for its commitment to conservation and community involvement. Situated in the Olare Motorogi Conservancy, this camp offers spacious, eco-friendly tents that blend harmoniously with the surrounding wilderness. Guests can embark on game drives with experienced guides, enjoy bush walks, and visit the nearby Maasai village to learn about their traditional way of life.
III. Sand River Masai Mara
Immerse yourself in luxury at Sand River Masai Mara. This lodge is inspired by the romance and adventure of classic safari camps. The tented accommodations exude elegance and feature modern amenities. Indulge in delectable cuisine at the dining tent or enjoy a sundowner by the campfire. Sand River Masai Mara is renowned for its exceptional service and exclusive game-viewing experiences.
IV. Little Governors' Camp
Little Governors' Camp offers a unique and intimate experience in the heart of the Masai Mara. Accessible only by boat across the Mara River, the camp provides a sense of seclusion and tranquility. The spacious tents are tucked away in the forest, overlooking a waterhole frequented by wildlife. Guests can participate in game drives, and hot air balloon safaris, and experience a traditional bush breakfast in the plains.
V. Mara Bush House
For those seeking privacy and exclusivity, Mara Bush House is the ultimate retreat. This private house offers a personalized experience, accommodating up to 12 guests. Set in a secluded location, the house features spacious bedrooms, a comfortable lounge, and a dining area. Guests can enjoy game drives, guided walks, and cultural visits while immersing themselves in the untamed beauty of the Masai Mara.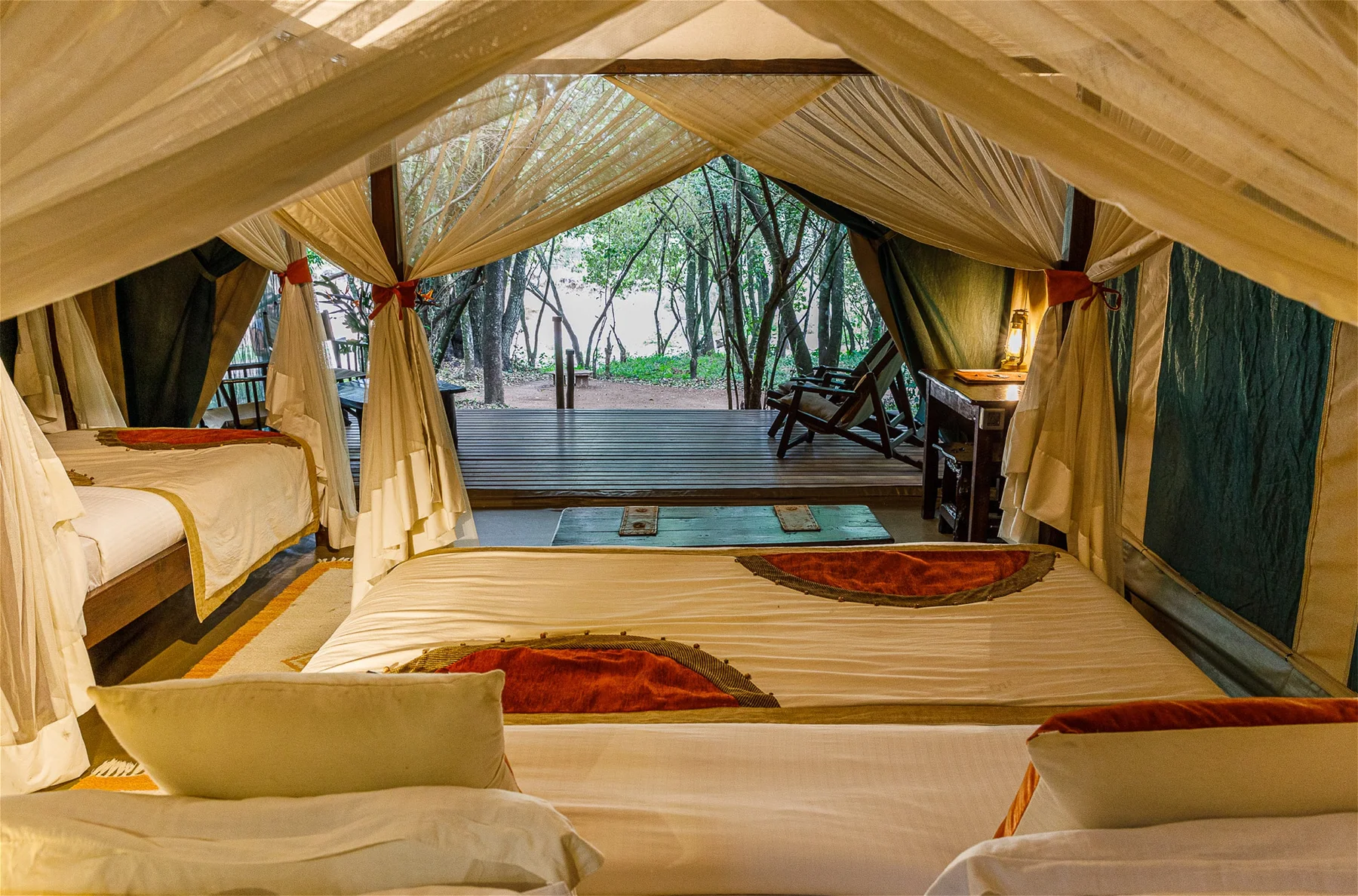 VI. Saruni Mara
Saruni Mara combines luxury with a deep respect for the local culture and environment. The lodge's beautifully designed cottages provide a haven of comfort and serenity. Guests can engage in various activities, including guided walks with Maasai warriors, visits to rock art sites, and rejuvenating spa treatments. Saruni Mara also offers exciting night game drives, showcasing Mara's nocturnal wonders.
VII. Sala's Camp
Located in the southern region of the Masai Mara, Sala's Camp offers an authentic safari experience with a touch of luxury. The camp's stylish tents are equipped with modern amenities and feature spacious decks overlooking the river. Guests can savor gourmet meals, relax in the lounge tent, or embark on game drives led by knowledgeable guides. Don't miss the opportunity to witness the annual wildebeest migration, as Sala's Camp is perfectly situated along their path.
VIII. Mara Intrepids Camp
Ideal for families and adventure enthusiasts, Mara Intrepids Camp provides a range of activities tailored to suit all ages. The camp's family tents offer comfortable accommodations with separate bedrooms and a shared lounge area.
Children can participate in the Adventurers' Club, where they learn about wildlife and conservation through engaging activities. Game drives, guided nature walks, and visits to a Maasai village are just a few of the exciting experiences available at Mara Intrepids Camp. The camp's prime location along the Talek River guarantees exceptional wildlife sightings, including crocodile and hippo encounters.
IX. Governors' Il Moran Camp
Governors' Il Moran Camp epitomizes luxury and exclusivity. With only ten tents nestled along the banks of the Mara River, this camp offers an intimate and personalized safari experience. The spacious tents exude elegance and feature Victorian bathtubs and private verandas. Guests can relish gourmet meals in the dining tent or enjoy a sundowner on the deck. Game drives and nature walks led by experienced guides allow for close encounters with the Mara's abundant wildlife.
X. Angama Mara
Perched on the edge of the Great Rift Valley, Angama Mara offers unparalleled views of the Masai Mara below. The camp's luxurious tented suites provide a seamless blend of modern comfort and African charm. Guests can savor delectable cuisine while gazing at the panoramic vistas or take part in hot air balloon safaris for a unique perspective of the Mara. Angama Mara also provides exceptional opportunities for photographers, ensuring unforgettable moments captured in the wild.
XI. Rekero Camp
Rekero Camp embraces a traditional safari experience, focusing on sustainability and conservation. The camp's spacious tents reflect a rustic elegance, blending seamlessly with the surrounding environment. Knowledgeable guides lead guests on game drives and walking safaris, sharing their expertise on wildlife behavior and the ecosystem. Rekero Camp's commitment to conservation is exemplified through its community outreach programs and contributions to local initiatives.
XII. Naboisho Camp
Naboisho Camp offers an authentic and immersive safari experience within the Naboisho Conservancy, known for its low tourist density and pristine wilderness. The camp's spacious and comfortable tents provide a peaceful retreat after a day of exploration. Guests can embark on game drives, bush walks, and night safaris, observing the diverse wildlife that roams the conservancy. Naboisho Camp also actively engages with local communities, fostering sustainable tourism practices and supporting educational initiatives.
XIII. Elephant Pepper Camp
Immerse yourself in the ambiance of a classic bush camp at Elephant Pepper Camp. Located in a prime wildlife area, the camp offers traditional safari tents that capture the essence of an authentic African adventure. Guests can indulge in gourmet meals prepared with locally sourced ingredients, enjoy sundowners by the campfire, and unwind in the cozy lounge area. Game drives and guided walks reveal the secrets of the Masai Mara, while the camp's conservation efforts ensure the protection of its natural treasures.
Conclusion
The Masai Mara lodges and camps showcased in this article transport guests to a realm of unparalleled beauty and wilderness. From luxurious accommodations to immersive wildlife encounters, each establishment offers a unique and unforgettable experience. As you explore the Masai Mara, take a moment to appreciate the conservation efforts and sustainable practices implemented by these lodges and camps, ensuring the preservation of this extraordinary ecosystem for generations to come. Embark on a journey of a lifetime and discover the magic of the Masai Mara in these remarkable lodges and camps.