Kenya, known for its awe-inspiring landscapes and abundant wildlife, offers an unparalleled natural beauty that beckons adventurous souls seeking a remarkable outdoor experience. While camping has long been a popular way to immerse oneself in the splendors of this East African gem, a new level of luxury and exclusivity has emerged in recent years, catering to those with discerning tastes. In this article, we will unveil nine unbelievable Kenyan camping spots that redefine the notion of high-end camping.
1.    Luxury Tent at Amboseli Eco Camp
Amboseli Eco Camp, offers a unique and environmentally conscious camping experience. This eco-camp is committed to sustainable practices, ensuring minimal impact on the surrounding ecosystem. The tent accommodations are luxurious and thoughtfully designed, providing guests with a comfortable and stylish retreat amidst the wilderness. Each tent is equipped with modern amenities, including cozy beds, private bathrooms, and spacious verandas to take in the breathtaking views. As for the highlights of Amboseli National Park, guests can witness the iconic sight of elephants roaming against the backdrop of Mount Kilimanjaro, experience thrilling game drives to spot lions, cheetahs, and zebras, and engage in cultural interactions with the Maasai community. Nearby attractions include the Amboseli Trust for Elephants, where guests can learn about elephant conservation efforts, and the Observation Hill, which offers panoramic vistas of the park's diverse landscapes.
2.    Kilima Safari Camp
Kilima Safari Camp is a remarkable camping spot in Kenya that exudes luxury and elegance. Nestled in the heart of the Masai Mara Reserve, this camp offers unparalleled comfort and breathtaking views of the African savannah. The camp boasts spacious and well-appointed tents, each equipped with en-suite bathrooms, comfortable beds, and private verandas. Its amenities include a spacious dining area, a cozy lounge, a well-stocked bar, and a refreshing swimming pool. What sets Kilima Safari Camp apart is its unique features and activities. Guests can embark on thrilling game drives led by experienced guides, witnessing the incredible wildlife of the Masai Mara up close. They can also opt for hot air balloon safaris, giving them a unique perspective from above. Cultural visits to nearby Maasai villages provide an immersive experience, allowing guests to learn about the local traditions and customs. Kilima Safari Camp truly offers a luxurious and unforgettable camping experience in the heart of the wild.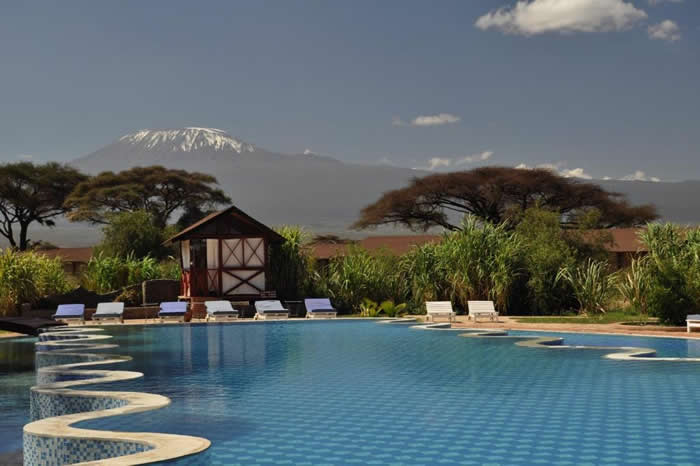 3.    Luxury Tent in Nairobi – Nairobi Tented Camp
Located deep in Nairobi National Park, Nairobi Tented Camp offers luxury tent accommodations that combine modern comforts with a touch of wilderness. The spacious tents are elegantly furnished, featuring comfortable beds, en-suite bathrooms, and private verandas where guests can relax and soak in the tranquil ambiance. What makes Nairobi Tented Camp even more enticing is its location within Nairobi National Park, allowing guests to enjoy a unique blend of wildlife encounters and urban attractions. Within a short distance, visitors can explore the bustling city center, visit cultural landmarks, or indulge in shopping and dining experiences. The camp itself provides exceptional services, including personalized attention from attentive staff, delectable dining options, and rejuvenating spa treatments. Guests can also partake in game drives, guided nature walks, and cultural visits to enrich their safari experience. With its strategic location and outstanding offerings, Tipilikwani Mara Camp ensures a luxurious and adventurous stay in Nairobi.
4.    Lake Elementeita Serena Camp
Lake Elementeita Serena Camp is a haven of luxury nestled on the shores of Lake Elementeita in Kenya. This exquisite tented camp offers a unique blend of comfort and natural beauty. Surrounded by stunning landscapes and abundant wildlife, guests can marvel at the magnificent views and indulge in unforgettable wildlife encounters. The camp provides well-appointed luxury tents that are elegantly furnished, providing a cozy and intimate retreat. Guests can enjoy the serenity of the lake while observing a variety of bird species and flamingos that inhabit its shores. The camp also offers notable facilities, including a restaurant serving delicious cuisine, a bar, a swimming pool, and a spa for ultimate relaxation. Adventurous activities such as game drives, guided nature walks, and boat safaris on the lake are available, allowing guests to fully immerse themselves in the captivating environment.
5.    Fig Tree Camp – Maasai Mara
Fig Tree Camp in Maasai Mara is a luxurious tented camp that promises an exceptional safari experience. Situated in the heart of the Maasai Mara National Reserve, this camp offers guests a chance to immerse themselves in the stunning landscapes and abundant wildlife of the region. The camp features spacious and elegantly furnished tents that provide a comfortable and tranquil retreat amidst the wilderness. One of the standout features of Fig Tree Camp is the opportunity for spectacular wildlife sightings and exhilarating game drives. Guests can witness the Great Migration, where millions of wildebeest and zebras traverse the plains, or spot the Big Five in their natural habitat. Additionally, the camp offers an array of dining options, including a main restaurant serving delicious meals, a bush dinner under the starry sky, and a bar to unwind and share stories of the day's adventures. Leisure options include a swimming pool, a spa, and cultural visits to nearby Maasai villages, providing a well-rounded and unforgettable safari experience at Fig Tree Camp.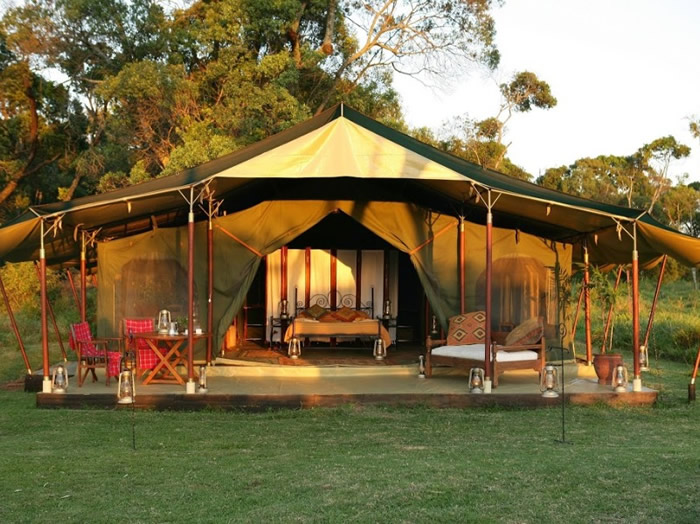 6.    Oldonyo Orok Lodge
Oldonyo Orok Lodge is a hidden gem in Kenya, offering exclusive accommodations that epitomize luxury and sophistication. The lodge provides a truly indulgent experience with its exquisite and well-appointed rooms and suites, each designed with utmost attention to detail and comfort. Nestled amidst serene surroundings and breathtaking landscapes, Oldonyo Orok Lodge offers guests a tranquil escape from the bustling world. From its elevated position, guests can enjoy panoramic views of the surrounding plains and distant hills. The lodge offers bespoke services that cater to every guest's needs, ensuring a personalized and memorable stay. Guests can partake in a range of recreational activities, including guided nature walks, horseback safaris, and bird watching, immersing themselves in the beauty and natural wonders of the area. Oldonyo Orok Lodge truly captures the essence of luxury, serenity, and impeccable hospitality, making it an ideal destination for those seeking an extraordinary retreat in Kenya.
7.    Olare Mara Kempinski
Olare Mara Kempinski is a prestigious luxury tent camp that promises an extraordinary safari experience in the Maasai Mara. Set in a prime location within the private Olare Motorogi Conservancy, this camp offers unparalleled access to the abundant wildlife and stunning landscapes of the Maasai Mara. The camp boasts luxurious and spacious tents that provide a seamless blend of comfort and elegance. Guests can embark on thrilling game drives led by expert guides, witnessing incredible wildlife sightings including the Big Five. The camp offers world-class amenities, including a gourmet restaurant serving delectable cuisine, a bar, a spa, and a swimming pool, ensuring guests' relaxation and indulgence. What truly sets Olare Mara Kempinski apart is its commitment to personalized services, catering to guests' individual preferences and creating unforgettable memories. Whether it's a romantic sundowner or a private bush breakfast, the camp goes above and beyond to curate exceptional experiences. Olare Mara Kempinski is the epitome of luxury, offering an unforgettable safari adventure in the Maasai Mara.
8.    Voyager Ziwani Tented Camp
Voyager Ziwani Tented Camp is an elegant and enchanting camp located in the picturesque Tsavo West National Park. Nestled along the banks of the Sante River, this camp provides a unique opportunity for guests to immerse themselves in nature and wildlife encounters. The camp offers luxurious tented accommodations, blending modern comforts with an authentic safari ambiance. Guests can wake up to the sounds of birds chirping and enjoy panoramic views of the surrounding landscapes. Voyager Ziwani Tented Camp is renowned for its abundance of wildlife, including elephants, lions, zebras, and giraffes, which can be observed during guided game drives or even from the comfort of the camp itself. In addition to game drives, guests can indulge in guided nature walks, bird watching, and boat safaris along the river, adding an extra layer of adventure to their stay.
9.    Losokwan Luxury Tented Camp – Maasai Mara
Losokwan Luxury Tented Camp is a captivating and luxurious retreat located in the iconic Maasai Mara. This camp offers guests a truly immersive experience in the heart of Maasai culture and the African wilderness. The camp features spacious and elegantly furnished tents, providing a comfortable and opulent atmosphere for guests to relax and unwind. What sets Losokwan Luxury Tented Camp apart is its commitment to authentic Maasai cultural experiences. Guests have the opportunity to interact with the local Maasai community, learning about their rich traditions, vibrant dances, and ancient rituals. In addition to the cultural experiences, Losokwan offers unforgettable safari adventures and wildlife encounters. Game drives led by expert guides allow guests to witness the awe-inspiring wildlife of the Maasai Mara, including the annual Great Migration.