A honeymoon marks the beginning of a lifelong adventure shared between two souls deeply in love. It's a time to bask in the euphoria of newlywed bliss and create memories that will be cherished forever. Choosing the right honeymoon destination is a pivotal decision, as it sets the stage for a romantic escape that will ignite passion and create a tapestry of unforgettable moments. Discover Kenya's most romantic honeymoon escapes.
Amidst the vast array of choices, Kenya beckons with its irresistible blend of romance and adventure. Nestled in the heart of Africa, this captivating country offers a treasure trove of enchanting landscapes, wildlife wonders, and cultural riches that will leave honeymooners awe-inspired. Here are the top honeymoon destinations in Kenya.
1.    Masai Mara: A Serene Paradise
Nestled in southwestern Kenya, the Masai Mara National Reserve is a paradise that epitomizes the raw beauty of Africa. Its expansive savannahs, teeming with wildlife, create a mesmerizing backdrop for a romantic honeymoon escape.
Romantic activities and experiences in Masai Mara
Hot air balloon safari at sunrise:
Imagine the gentle breeze caressing your face as you ascend into the sky, suspended in a colorful hot air balloon. With the sun rising on the horizon, painting the landscape in warm hues, you and your loved one float above the vast plains of Masai Mara. Marvel at the breathtaking panoramic views of the wildlife below, from herds of wildebeest to graceful giraffes.
Private game drives in the wilderness:
Embark on an intimate adventure hand in hand with your partner, venturing deep into the heart of Masai Mara. A private game drive allows you to explore the reserve's vastness at your own pace, without the distractions of a larger group. Traverse the rugged terrain, following the tracks of elusive predators or witnessing the playful antics of elephants and zebras. Your expert guide will share their knowledge and help you spot hidden gems, ensuring an immersive and romantic wildlife encounter.
Candlelit bush dinners under the starry sky:
As twilight paints the sky in shades of orange and pink, prepare for an enchanting evening filled with the magic of Masai Mara. Indulge in a candlelit bush dinner set amidst the untamed wilderness. With a table adorned in elegant linens, surrounded by flickering lanterns, savor delectable cuisine prepared with local flavors. As the night sky reveals a canopy of stars, feel the ambiance of seclusion and intimacy, accompanied by the distant sounds of nocturnal creatures. It's a truly romantic experience that creates memories to be cherished forever.
In Masai Mara, love is woven into the very fabric of the land. It's unspoiled beauty and captivating wildlife offer couples a sanctuary of serenity and enchantment.
2.    Diani Beach: Tropical Bliss
Located along Kenya's stunning coastline, Diani Beach is a haven of tropical bliss that captivates honeymooners with its pristine shores and crystal-clear turquoise waters. With its swaying palm trees, soft white sand, and warm Indian Ocean breeze, Diani Beach offers a romantic setting that feels straight out of a dream. This idyllic destination boasts luxurious beach resorts and a range of activities that cater to couples seeking a serene and intimate getaway.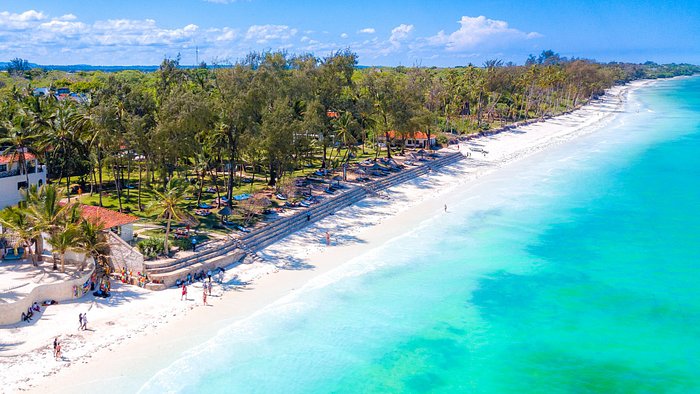 Romantic activities and experiences in Diani Beach
Relaxing beach walks at sunset:
As the sun begins its descent, casting a golden glow over the horizon, take a leisurely stroll along the powdery sand of Diani Beach with your beloved. Hand in hand, feel the gentle caress of the ocean breeze and listen to the soothing melody of crashing waves.
Private beachside dinners:
Indulge in a truly intimate dining experience by arranging a private beachside dinner for you and your partner. With tables adorned with elegant linens and soft candlelight illuminating the scene, savor a sumptuous feast of fresh seafood and tantalizing local delicacies.
Snorkeling and diving adventures in the coral reefs:
Explore the vibrant underwater world of Diani Beach hand in hand with your loved one. Put on your snorkeling gear or embark on a diving adventure together, and immerse yourselves in the mesmerizing beauty of the coral reefs. Encounter a kaleidoscope of tropical fish, graceful sea turtles, and colorful coral formations.
3.    Lamu Island: A Hidden Gem
Tucked away on the Kenyan coast, Lamu Island stands as a hidden gem waiting to be discovered by honeymooners seeking a unique and romantic escape. This UNESCO World Heritage Site exudes an old-world charm with its narrow streets, intricately carved doors, and rich Swahili culture. With no cars and only donkeys for transportation, Lamu Island offers an enchanting atmosphere that transports couples back in time.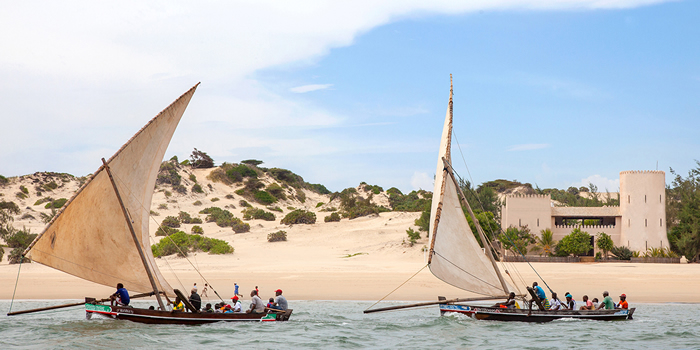 Romantic activities and experiences in Lamu Island
Exploring the historic Lamu Old Town:
Embark on a journey through history as you explore the narrow alleys and vibrant markets of Lamu Old Town. Marvel at the architectural wonders of the intricately carved Swahili-style houses, adorned with wooden balconies and ornate doors. Take leisurely walks hand in hand, discovering hidden courtyards and charming cafés where you can enjoy a cup of spiced tea together.
Sunset dhow cruises along the coast:
Experience the ultimate romantic voyage on a traditional dhow, a sailing vessel emblematic of Lamu Island. Drift along the tranquil waters of the Indian Ocean as the sun begins its descent, casting a warm golden glow over the horizon. Allow the gentle sea breeze to envelop you as you sail past pristine beaches and picturesque coves.
Romantic stays in luxurious beachfront villas:
Lamu Island offers a selection of luxurious beachfront villas that provide an intimate and indulgent escape for honeymooners. These exquisite accommodations boast stunning views of the ocean and provide the perfect setting for a romantic getaway. Unwind in the privacy of your own villa, complete with a private plunge pool and a secluded terrace.
4.    Lake Nakuru: A Photographer's Dream
Nestled in the Great Rift Valley of Kenya, Lake Nakuru National Park is a paradise for nature enthusiasts and a dream come true for photographers. The park's centerpiece, Lake Nakuru, is a shimmering alkaline lake renowned for its vibrant pink flamingos that blanket its shores. 
Romantic activities and experiences at Lake Nakuru
Bird-watching and wildlife spotting:
Lake Nakuru National Park is a haven for bird lovers, with over 400 bird species calling it home. Witness the awe-inspiring sight of flocks of flamingos, their vibrant hues painting the lake's surface. Take a leisurely stroll along the lakeshore, hand in hand, as you spot elegant herons, storks, and pelicans. Keep your eyes peeled for the park's resident wildlife, including rhinoceroses, giraffes, zebras, and buffalo. The abundance of avian and animal life creates a romantic and captivating atmosphere, allowing you to share the beauty of nature together.
Private picnics by the lake:
Escape the world and enjoy a secluded and intimate picnic by the shores of Lake Nakuru. Find a peaceful spot overlooking the glistening waters, spread a cozy blanket, and indulge in a gourmet picnic basket filled with delectable treats. Savor each bite as you immerse yourselves in the tranquility of the surroundings. The serenity and natural beauty of Lake Nakuru provide the perfect setting for a romantic rendezvous, allowing you to connect deeply and create cherished memories.
Nature walks in the picturesque surroundings:
Embark on a romantic nature walk in the picturesque surroundings of Lake Nakuru National Park. Hold hands as you explore the park's diverse landscapes, from sweeping grasslands to lush forests. Let the fresh air invigorate your senses and the sights and sounds of nature enchant you. Your expert guide will unveil the hidden gems of the park, sharing their knowledge of the flora and fauna that inhabit the region. This immersive experience allows you to connect with nature and each other on a profound level, fostering a deeper appreciation for the world around you