If you're planning a walking safari to the Masai Mara, you're in for a treat! At the cost of USD 466 per person sharing per night, you'll get the chance to explore the savannah on foot and get up close and personal with the region's incredible wildlife. Led by an experienced guide, you'll learn about the plants and animals of the Masai Mara and have the opportunity to create memories that will last a lifetime.
Don't miss out on this unique and exciting safari experience. Read on to learn more about the cost of a Masai mara walking safari and start planning your adventure!
About the Masai Mara Walking Safari
The Masai Mara Walking Safari is a unique and exciting way to experience the beauty and wildlife of the Maasai Mara National Reserve in Kenya. Led by a guide, you'll embark on a journey through the savannah on foot, getting up close and personal with the incredible plants and animals that call this region home. From majestic elephants and graceful giraffes to colorful birds and fascinating insects, you'll see the Maasai Mara in a new way on a walking safari.
Masai Mara has two distinct sorts of nature walks. Nature walks within the camp and one outside the main reserve. This safari is so amazing and exciting because tourists get to walk through nature and get up close to it.
You can only experience this by going on a guided nature walk, where armed rangers will keep an eye on you to make sure you stay safe as you watch animals that live in the most beautiful savanna reserve. Walking Safaris and Bush Walks in the Maasai Mara National Reserve are the same as game drives because they get you closer to the animals in the reserve.
Walking Safaris and Bush Walks are mostly put on by the camps and lodges inside the reserve. That is because walking safaris aren't allowed in the reserve or any other protected area in Kenya. So, if you get the chance to go on this walk, you will have a great time as you watch these animals graze and listen to the sweet songs of different bird species, among other things.
Depending on what you as the tourist wants, the walk can be done inside the camp or lodge or outside the reserve in the nearby conservancies. This walk can take anywhere from a few minutes to about three hours. The longer walking safari comes with a breakfast or lunch box that people can eat in the middle of the wilderness.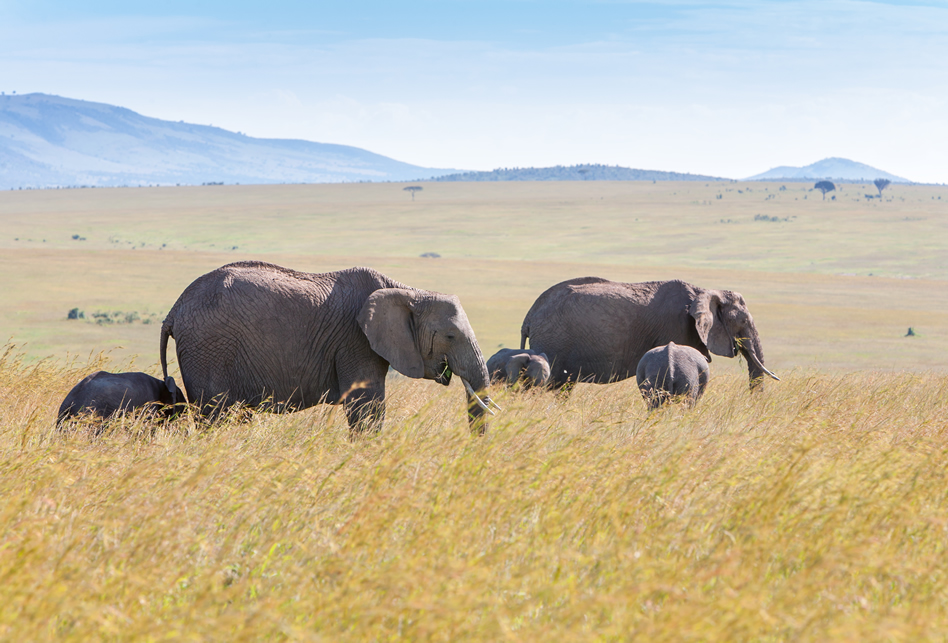 Walking safaris and bush walks are best in and around Masai Mara national reserve in the early morning and late afternoon. That is the best time to go because the sun isn't too hot and there are a lot of animals out grazing and hunting.
During your safari, you'll have the opportunity to learn about the Masai Mara from your knowledgeable guide, who will provide insights into the region's flora and fauna, as well as the culture and history of the Maasai people.
You'll also have the chance to further participate in additional activities and excursions, such as hot air balloon rides and visits to Maasai villages, to enrich your safari experience.
When you're on a walking or bush safari, keep in mind that you're moving through the wildlife's territory. The experienced local tour guides will tell you to be very careful at all times. But this will depend on the trail or walk that is taken.
As was already said, all walking safaris in and around the Masai Mara national reserve are led and watched over by experienced Masai guides who were born and raised in the Maasai village and know everything there is to know about the reserve and the best trails to walk on to see the most animals.
This walk can be done at your own pace and without rushing, so you can choose to go on as many walking Kenya safaris as you want, as long as your camp or lodge can set them up, or you can choose to go on a walk in one of the nearby conservancies, depending on what you as the client wants.
Some of the best places to visit on a walking safari or bush walk in the Maasai Mara national reserve are the Mara Naboisho area, which is one of the best wildlife hubs and has a lot of animals you can see while walking.
The Cost of the Masai Mara Walking Safari
Walking safaris are conducted in private conservancies surrounding the reserve; consequently, walking safaris are not priced independently. The cost of a Masai Mara Walking Safari is typically included in the overall cost of a game package offered by private conservancies around the Maasai Mara National Reserve.
These game packages typically range from USD 466 per person sharing per night and include full-board accommodation, shared game drives with open-sided land cruisers, airstrip transfers, a guided walking safari, and conservancy fees.
Please note that the cost of a walking safari in the Maasai Mara does not include flight tickets, extras at the hotel, or tips and gratitude. These additional costs must be accounted for when budgeting for your safari.
How to Budget for a Walking Trip to Masai Mara
When budgeting for a walking safari in the Masai Mara, it's important to consider all factors that can influence the cost of the trip. Here are some steps you can take to budget effectively for your safari:
Determine your budget: Start by deciding how much you are willing and able to spend on your safari. That will help you narrow your options and focus on safari packages within your price range.
Research safari packages: Look for safari packages that offer the duration, accommodations, and activities you are interested in. Compare prices and read reviews to get a sense of the safari companies' quality and services. Keshi Tours can give you a comprehensive quote.
Consider additional costs: In addition to the cost of the safari package, there are other costs to consider, such as flights, visas, insurance, and any additional excursions or activities you plan to do. Be sure to factor these costs into your budget.
Look for discounts and deals: Many safari companies offer discounts and deals for early bookings, group bookings, or last-minute bookings. Keep an eye out for these opportunities to save money on your safari.
Be prepared for unexpected expenses: Finally, it's important to be prepared for unexpected expenses that may arise during your safari. Consider setting aside a small emergency fund to cover any unforeseen costs.
Conclusion
Experience the thrill of the Masai Mara on foot with our expertly organized walking safari. Step into the wild and discover the hidden wonders of this breathtaking landscape. With knowledgeable guides leading the way, you'll get an up-close and personal view of the incredible wildlife that calls the Masai Mara home. Don't miss out on this once-in-a-lifetime adventure. Contact us today to book your perfect Masai Mara walking safari package.
Need more adventure, check out our mountain climbing packages in Kenya