The Masai Mara National Reserve, a name that resonates with the majesty of the African wilderness, is a natural treasure nestled in the southwestern heart of Kenya. This sprawling expanse, spanning approximately 1,510 square kilometers, is a testament to the untamed beauty of the African savannah. At the heart of this captivating ecosystem are the iconic big cats – the regal lions, elusive leopards, and fleet-footed cheetahs. These magnificent predators are the charismatic rulers of the Mara's plains, but their significance extends far beyond their awe-inspiring presence. The purpose of this article is to unveil the captivating world of the big cats of Masai Mara. We will delve into their remarkable behaviors, their vital roles in the intricate web of life, and the challenges they face in a rapidly changing world.
The Masai Mara Ecosystem
The Masai Mara National Reserve, a jewel in Kenya's conservation crown, is situated in the southwestern part of the country, bordering Tanzania's Serengeti National Park. This region is part of the larger Serengeti-Mara ecosystem, which is renowned for hosting one of the most spectacular natural events on the planet: the Great Migration.
The Masai Mara is a haven for wildlife enthusiasts, boasting a staggering diversity of species that thrive within its boundaries. This includes not only the iconic big cats, which are the primary focus of this article but also a multitude of other remarkable animals. The savannah plains are home to large herds of herbivores such as wildebeest, zebras, and various antelope species. Elephants, giraffes, and buffaloes are also common sights in this region.
The Big Cats of Masai Mara
The big cats of Masai Mara, comprising lions, leopards, and cheetahs, are not only charismatic symbols of the African wilderness but also vital components of the region's ecosystem. They occupy the apex predator position and exert a significant influence on the delicate balance of nature.
Lion: The Majestic King
The lion, often referred to as the "king of the jungle," is an iconic symbol of African wildlife and a charismatic resident of the Masai Mara. These majestic big cats are known for their social nature, often forming pride that consist of multiple females, their cubs, and a dominant male or coalition of males. Lions primarily inhabit the open grasslands and savannahs of the Masai Mara, where they are often seen basking in the sun, socializing, or embarking on cooperative hunts. Their hunting techniques range from group efforts in taking down larger prey to solitary pursuits. Lions play a pivotal role in regulating herbivore populations, preventing overgrazing, and maintaining a balanced ecosystem. However, they face significant conservation challenges, including habitat loss, human-wildlife conflict, and poaching for their body parts and trophies. Various conservation efforts are underway to safeguard the future of these majestic kings in the Masai Mara.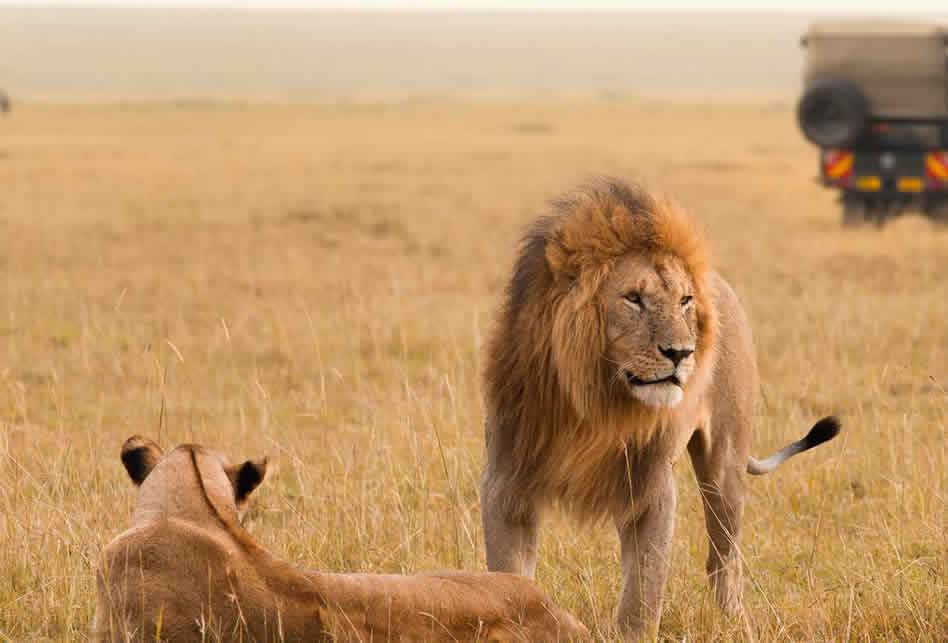 Leopard: The Elusive Phantom
Leopards, the elusive phantoms of the Masai Mara, are solitary, enigmatic creatures with a mastery of stealth and adaptability. They are renowned for their remarkable climbing abilities and unique coat patterns, allowing them to blend seamlessly into their surroundings. Leopards are versatile in their choice of habitat, from the savannah to the forested riverbanks. Their solitary nature and territorial behavior make them challenging to spot, but they are skilled hunters with an impressive success rate. Leopards often stash their kills in trees to protect them from scavengers. While they contribute to the regulation of prey populations and the maintenance of the ecosystem, they face threats such as habitat loss and fragmentation. Conservation initiatives aim to secure the future of these elusive big cats in the Masai Mara.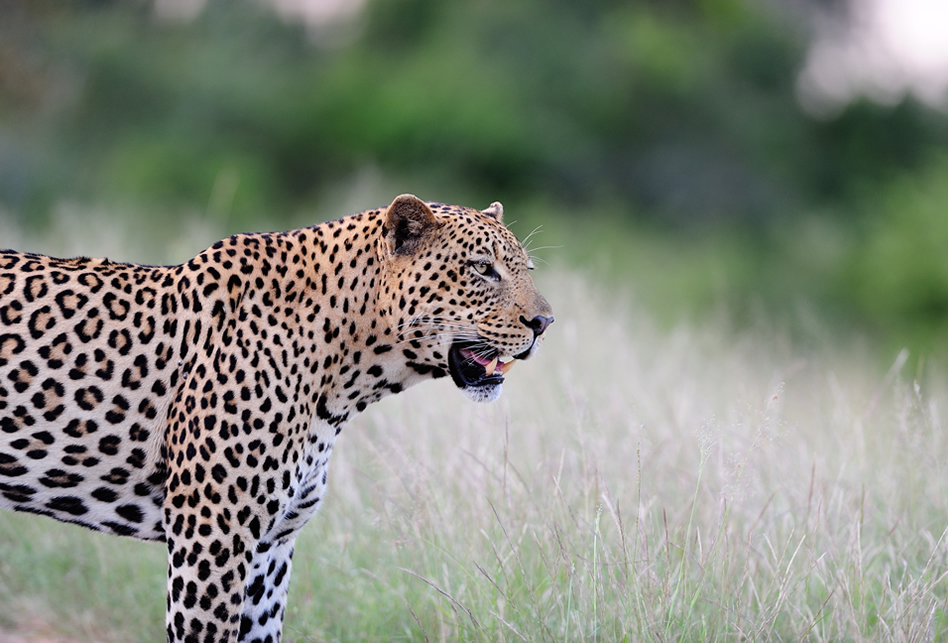 Cheetah: The Speed Demon
Cheetahs are the speed demons of the Masai Mara, known for their incredible sprinting abilities. They are characterized by their slender frame, distinctive black "tear tracks" under their eyes, and non-retractable claws, which provide essential traction while chasing prey. Unlike lions and leopards, cheetahs are solitary animals and face unique challenges when it comes to securing their kills, as they can lose their prey to larger predators easily. Their primary prey consists of small to medium-sized ungulates, such as gazelles and impalas. Cheetah populations in the Masai Mara are relatively stable, but they still encounter threats, including habitat loss, human-wildlife conflict, and competition with other predators. Conservation initiatives focus on monitoring their numbers and reducing these challenges to ensure that the speed demons continue to grace the Masai Mara's landscapes with their unparalleled agility and speed.
Threats to Big Cats in Masai Mara
A. Human-Wildlife Conflict
Human-wildlife conflict is a significant concern in the Masai Mara. As human populations expand and encroach on the natural habitats of big cats, conflicts often arise, particularly due to livestock predation. Local communities depend on their livestock for their livelihoods, and when lions or other big cats target these animals, tensions can escalate. Retaliatory killings, where big cats are killed in response to livestock losses, are a common consequence of these conflicts.
B. Poaching and Illegal Wildlife Trade
The illegal wildlife trade remains a significant threat to the big cats of the Masai Mara. Lions, leopards, and cheetahs are sought after for their body parts, which are used in traditional medicine or as status symbols. Their fur, claws, and bones are also targeted for illegal trade. The consequences of poaching are devastating, not only for big cat populations but also for the ecosystems they inhabit.
C. Habitat Loss and Fragmentation
Habitat loss and fragmentation pose severe threats to the big cats of the Masai Mara. As human populations grow and agricultural activities expand, the natural landscapes that these animals rely on are increasingly being converted into farmland and infrastructure. This loss of habitat can lead to reduced prey availability and increased human-wildlife conflict as big cats venture into human-dominated areas in search of food.
D. Climate Change Impacts
Climate change is a global challenge that has repercussions even in the Masai Mara. Changes in weather patterns, such as prolonged droughts and altered rainfall regimes, can affect the availability of water and prey species. These shifts in climate can disrupt the balance of the ecosystem, impacting both the big cats and their prey. As prey animals may move to find water and food sources, big cats may be forced to adjust their hunting patterns.