The Coast region in Kenya is an ideal space for holiday seekers away from the daily, mundane life of work or school. Garnished with Swahili rhythms and the rise and fall of tides, this side of Kenya dances to its own beat.
The Coastal region of Kenya has always been a favorite destination for tourists. The long interplay of Africa, India and Arabia gives it a different vibe from the rest of Kenya – and its people the Swahili have created a distinct Indian Ocean society.
Whether its lovers seeking a romantic getaway, business associates seeking corporate services or a family friendly holiday destination, the Coast of Kenya should definitely be your top priority. Here are the top five beach resorts that will give you an unforgettable family experience:
Baobab Beach Resort & Spa
Sitting on 80 acres of tropical gardens, the Baobab Beach Resort & Spa is located on the world renown Diani Beach. Overlooking the Indian Ocean, the resort's picturesque location is shaded by indigenous coastal vegetation and exotic coconut palms.
Baobab's accommodation has been designed with luxury in mind and tastefully furnished by Kenya's leading interior designers; with rooms fitted with modern amenities as well as interconnected rooms ideal for family set ups. These facilities provide ultimate comfort and luxury to all its clientele.
For family dinners and special occasions like birthday parties, Marhaba and Tangezi restaurants are a selection offering delectable range of international, African and seafood dishes. Their personal service and perfect ambiance are designed to charm your tastes.
Toto's Corner by the Rafiki Kids Club is a space that offers kids activities such as arts and crafts, paintings, dancing, swimming, beach adventures and other outdoorsy activities.
Baobab Beach Resort& Spa is located on a clifftop overlooking the famous Diani beach, 38km from Mombasa
Voyager Beach Resort
Voyager Beach Resort, moored seven kilometers north of Mombasa, offers its guests easy access to a huge variety of historical, sporting and cultural attractions. Known for hosting some of Africa's finest family attractions and animation programs, this vibrant themed resort gives kids an amazing experience of themed journeys across the seven seas and culinary delights.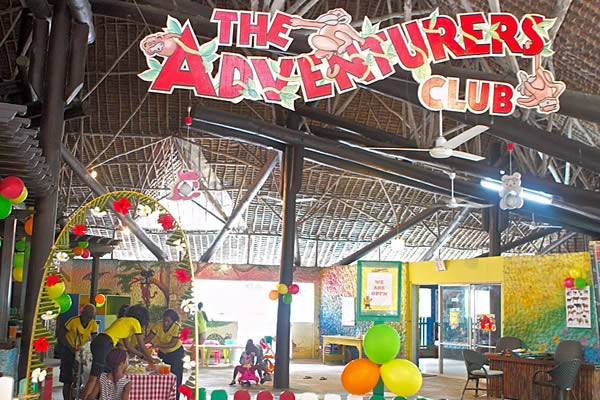 At the water sports center, kids can take a quick lesson in sail boating or windsurfing or join the Adventurer's club with a coastal naturalist to explore the local marine ecosystem and learn about the indigenous traditions.
This resort also connects travelers to Mombasa, a convenient hub to explore the surroundings which are rich with historical, cultural and natural attractions like Africa's largest crocodile farm and acclaimed Haller Park (formerly Bamburi Nature Trail).
The Voyager Beach Resort is located in M.t Kenya road off Links Road, Mombasa Kenya.
PrideInn Flamingo Beach Resort
If you're seeking a perfect family retreat with kids' entertainment, then PrideInn Flamingo Beach Resort is your choice destination. Located along the Mombasa-Malindi Highway, this facility offers children an enjoyable variety of fun i.e. magic shows, slime making, talent search, hula hoops, Zumba and mini safari walk among others.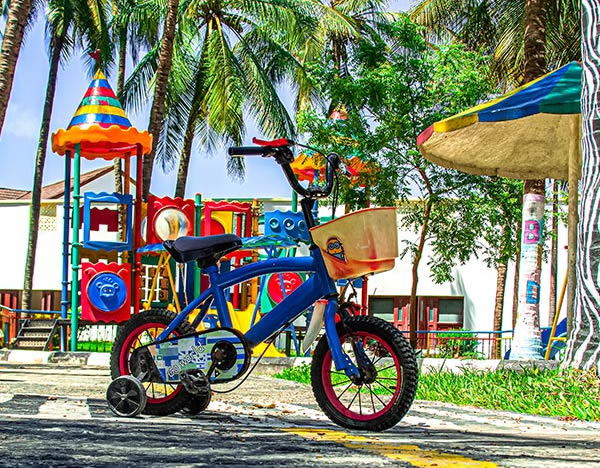 It's super clean oval lagoon overlooking the Indian Ocean is a space for both adults and family to soak in.
At an additional cost, this amazing resort offers excursions like Island hopping, boat riding, snorkeling, visiting historical sites like Fort Jesus, Haller Park, Jumba la Mtwana etc.
ParadiseInn Resort is located in Shanzu Beach, 30km away from Mombasa.

Like its name suggests, the Neptune Paradise Beach Resort & Spa's experience is nothing short of paradise. Located in South Coast at the famous Diani Beach with a beach front, this all-inclusive resort is set in a beautiful tropical garden.
It's typical makuti roofs on the rooms and restaurants makes the perfect blend between hotel and nature, giving it an authentic, African feel. The resort has a tennis court where kids can enjoy playing tennis, offers board games as well as acrobatic shows for family entertainment.
Mombasa is 1 hour's drive from Neptune Paradise Beach Resort& Spa and Moi International Airport is 54.7 km from the resort.
Turtle Bay Beach Resort
Looking for a family friendly holiday destination in Watamu? Then Turtle Bay Beach Resort is just the place for you.
It is one of Kenya's most extensive all-inclusive hotels.
Set in ten acres of tropical gardens, this resort has just the right facilities for a family friendly holiday destination.
From a children's pool, The Turtle Bay Dive (Padi) and Turtle Bay Watersport Center, which offers daily a variety of all inclusive watersports from snorkeling, boogie boards, windsurfing trials, canoes/kayaks, pedal boats, etc.
One of the services that makes this resort a family's favorite destination is that it has a fully supervised club for kids between the ages of 4-12 years. It also has a baby-sitting service that is open daily at an extra charge.
Not wanting to limit itself to indoor activities, families on vacation can explore local attractions like Gedi ruins, Arabuko Sokoke forest, or go for dolphin watching. It also offers Turtle Bay dhow trips on the Mida Creek, a place well known for its birdlife- an entertaining adventure for kids as well as a learning moment.
Guests can jet in from Malindi which is 18km away.