Amboseli National Park, nestled at the foot of Mount Kilimanjaro in Kenya, is a captivating destination renowned for its breathtaking landscapes and abundant wildlife. To fully immerse oneself in this remarkable wildlife paradise, choosing the right lodge or camp is essential. In this article, we will explore 9 exceptional Amboseli lodges and camps that offer unparalleled experiences, from eco-friendly practices to luxurious accommodations and unique wildlife encounters.
1.    Porini Amboseli Camp: The Intimate Wilderness Retreat
Porini Amboseli Camp stands out as a perfect getaway for nature enthusiasts seeking an intimate and immersive experience. Set within a private conservancy, the camp offers spacious tents with modern amenities, ensuring comfort in the heart of the wilderness. With a strong commitment to eco-tourism and community involvement, Porini Amboseli Camp provides authentic wildlife encounters and activities, including game drives, guided walks, and cultural interactions with local Maasai communities.
2.    Elewana Tortilis Camp Amboseli: Luxury Amidst Natural Splendor
Elewana Tortilis Camp Amboseli offers a luxurious haven nestled amidst the natural splendor of Amboseli. This exceptional camp combines opulence with the breathtaking beauty of its surroundings. Situated in a prime location with awe-inspiring views of Mount Kilimanjaro, Elewana Tortilis Camp Amboseli provides an unforgettable experience for discerning travelers.
The camp's tented accommodations exude elegance and comfort, with spacious interiors and private verandas that offer panoramic vistas of the park. Guests can indulge in a range of luxurious amenities and services, ensuring a truly pampered stay. From sumptuous dining experiences to relaxing spa treatments, every aspect of Elewana Tortilis Camp Amboseli is designed to provide an unparalleled level of luxury.
Beyond its opulent offerings, the camp is deeply committed to sustainability and conservation. It actively supports local communities and wildlife preservation efforts, allowing guests to contribute to these important initiatives. Exciting game drives and guided nature walks led by knowledgeable guides provide opportunities to encounter Amboseli's iconic wildlife up close. Elewana Tortilis Camp Amboseli effortlessly combines luxury, natural beauty, and responsible tourism, creating an unforgettable experience in the heart of Amboseli National Park.
3.    Elerai Camp: Where Nature and Maasai Culture Converge
Elerai Camp is a captivating retreat where nature and Maasai culture harmoniously converge. Nestled in a picturesque wilderness area near Amboseli National Park, this camp offers a truly immersive experience that celebrates the rich traditions of the Maasai people while being in close proximity to breathtaking natural landscapes.
The camp's accommodations, which include luxurious tents and charming stone-built cottages, provide a comfortable and authentic setting for guests. Elerai Camp goes beyond providing a place to stay by offering unique opportunities to engage with Maasai culture. Guests can participate in enriching experiences such as visiting Maasai villages, learning about their traditional dances and crafts, and gaining insights into their way of life. These cultural interactions not only create lasting memories but also foster a deeper appreciation for the Maasai heritage.
Elerai Camp's commitment extends beyond cultural immersion to environmental conservation and community development. The camp actively supports conservation initiatives and engages with local communities, contributing to the preservation of Amboseli's unique ecosystem. With its seamless blend of nature and culture, Elerai Camp provides an enriching and meaningful experience that showcases the beauty of Amboseli while honoring the vibrant Maasai traditions.
4.    Ol Tukai Lodge: Nature's Majesty with Kilimanjaro Views
Ol Tukai Lodge offers an awe-inspiring experience with its panoramic views of Mount Kilimanjaro. The lodge boasts spacious rooms adorned with African-inspired decor and modern amenities, providing a comfortable retreat after exciting wildlife encounters. Committed to wildlife conservation and education, Ol Tukai Lodge offers expert-guided game drives, nature walks, and birdwatching excursions. Nearby attractions, including swamps with elephants and observation points with uninterrupted views of Kilimanjaro, add to the lodge's allure.
5.    Amboseli Serena Safari Lodge: Serenity in the Heart of the Park
Nestled within Amboseli National Park, Amboseli Serena Safari Lodge offers tranquility and stunning vistas. The lodge features charming rooms with authentic African decor and contemporary comforts. With a strong emphasis on responsible tourism and community development, Amboseli Serena Safari Lodge actively supports conservation efforts and engages with local communities. Guests can embark on thrilling game drives, guided nature walks, and cultural visits to Maasai villages.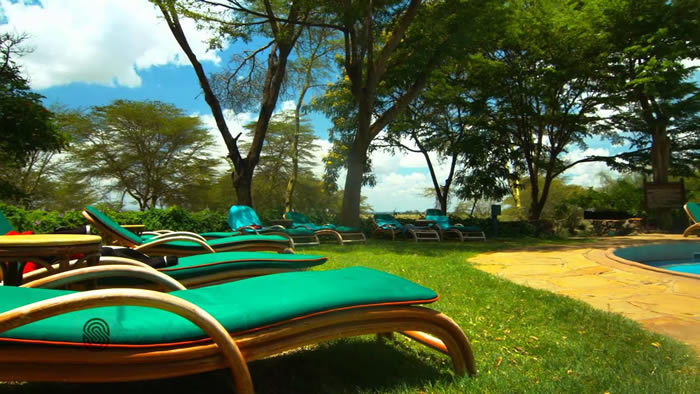 6.    Ol Donyo Lodge: Exclusive Wilderness Retreat
ol Donyo Lodge provides an exclusive retreat with its secluded location and captivating views of Mount Kilimanjaro. The lodge offers luxurious accommodations, including private villas with plunge pools, and a variety of amenities for a lavish stay. Committed to conservation and community involvement, ol Donyo Lodge supports local initiatives and offers activities such as horseback safaris, guided bush walks, and star-bed sleepouts for an unforgettable wilderness experience.
7.    Tawi Lodge: Eco-friendly Haven in Amboseli
Tawi Lodge is a shining example of an eco-friendly haven in Amboseli. With its elegant cottages blending seamlessly into the natural surroundings, Tawi Lodge offers a serene and sustainable retreat. The lodge's design incorporates solar energy and water recycling systems, minimizing its ecological footprint. Tawi Lodge actively participates in conservation initiatives, including anti-poaching efforts and community empowerment projects. Guests can enjoy thrilling game drives, guided bush walks, and cultural visits, all while contributing to the preservation of this remarkable ecosystem.
8.    Campi ya Kanzi: Exclusivity and Conservation in Harmony
Campi ya Kanzi, situated near Amboseli, is a place where exclusivity and conservation intertwine. This luxury camp features lavish accommodations, including spacious tents and elegant cottages, offering privacy and comfort in the midst of nature. Campi ya Kanzi operates on a sustainable model, engaging local communities in conservation projects and supporting education initiatives. Guests can partake in exciting game drives, guided nature walks, and cultural immersions while knowing their visit contributes to the protection of wildlife and the empowerment of local people.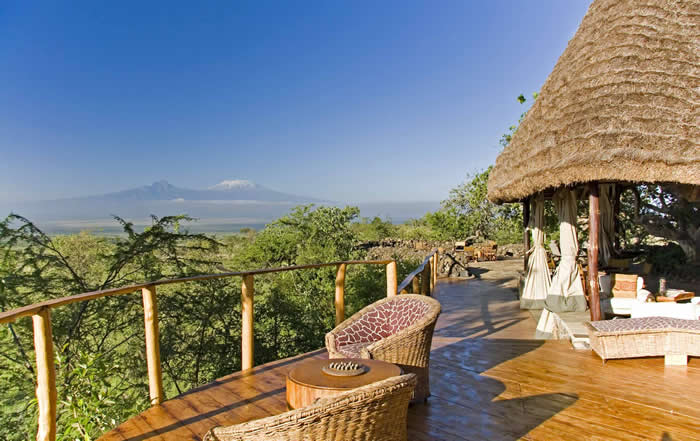 9.   Amboseli Sopa Lodge: Panoramic Views and African Hospitality
Amboseli Sopa Lodge enchants visitors with its panoramic views of Amboseli National Park and warm African hospitality. The lodge provides comfortable rooms with modern amenities, designed to blend seamlessly with the natural environment. Amboseli Sopa Lodge places great importance on environmental preservation and community support, actively engaging in conservation efforts and empowering local communities. Guests can enjoy exhilarating game drives, nature walks, and birdwatching, immersing themselves in the beauty and diversity of Amboseli's wildlife.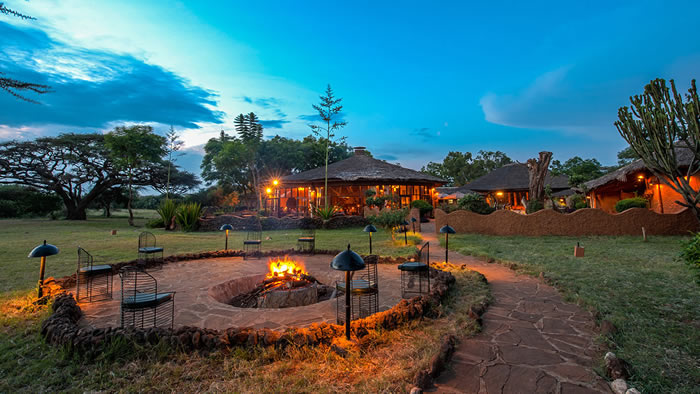 Conclusion
Amboseli National Park stands as an unrivaled wildlife paradise, and choosing the right lodge or camp can enhance the experience exponentially. The nine lodges and camps discussed in this article offer a range of options, from intimate and eco-friendly retreats to luxurious and exclusive getaways. Whether it's the eco-conscious practices of Porini Amboseli Camp, the luxury and natural splendor of Elewana Tortilis Camp Amboseli, or the cultural immersion at Elerai Camp, each accommodation offers unique experiences and opportunities for wildlife encounters.