If you had to imagine the ideal safari adventure, you would definitely picture a vacation to Kenya's Masai Mara. This renowned national reserve is not only the source of great pride for Kenya but is also among the most breathtaking locations on earth. So, what is the cost of a flight to Masai Mara?
Before we get to the cost, let us paint a picture of the Masai Mara Experience.
Expect to see huge meadows with over a million zebras and wildebeest roaming freely, herds of elephants sipping water next to water buffalos, and, if you're persistent enough, lions, cheetahs, and leopards quietly looking for a hunt.
With so many wild experiences to search for, ways to get about the park, and costs ranging from only a few hundred dollars to many thousands per day, visiting Kenya without visiting Masai Mara means losing out on something spectacular. Nevertheless, it's critical to comprehend what makes Masai Mara unique and how to maximize your time and money.
About Masai Mara
The Masai Mara is undeniably one of the most well-known parks in Africa. It should be no surprise that Kenya is the birthplace of the safari and that the Masai Mara is the industry's core.
The 1,510-square-kilometer Masai Mara National Reserve in southwest Kenya is home to many wildlife, including the annual wildebeest migration. When over a million wildebeest travel plains, valleys, and rivers in search of new grass, this migration is the most incredible natural spectacle on earth.
This vast ecosystem, known as the "larger Masai Mara ecosystem," consists of two natural reservoirs (Mara Triangle and Masai Mara National Reserve), many smaller private conservancies, and Masai settlements surrounding the parks.
Before you visit Masai Mara, you should evaluate your mode of transportation, the number of days you wish to spend inside the national reserve, where you wish to stay, and the activities you intend to engage in. These options will have a substantial impact on the cost of your vacation to Masai Mara.
Travelling To Masai Mara by Air
If you're planning on visiting Masai Mara, flying there is the fastest option, saving you up to four hours compared to driving there and back. That is after accounting for airport transfer and waiting time.
International Flights
Frequent direct flights to and from Kenya are available on the networks of most major international carriers.
Some of the largest and busiest airlines have implemented preventative safety precautions, and others have provided additional security measures by giving global cover for Covid-19 to increase passenger confidence.
It would help if you asked your travel agent whether or not domestic flights are included in the price of your vacation package.
Please note that Kenya does not provide visas upon arrival. In advance of travel, Visa applications for entry into Kenya must be submitted online at www.evisa.go.ke. To enter Kenya, everyone must go through passport control. When entering and leaving Kenya, tourists will have their identities verified. Be sure to protect your passport at all times when in Kenya.
Getting To Masai Mara on A Local Flight
Getting from Nairobi to Masai Mara by plane is the fastest and most convenient option. Everything you need to know is listed here.
Traveling to the Masai Mara by plane is most convenient from Nairobi Wilson Airport (WIL). To get to the Mara, it only takes a quick 49-minute flight.
The Masai Mara is accessible via plane from several nearby airstrips. The location of your safari accommodations will determine the airstrip you fly into. Airkenya Express, East African Air, Silverstone Air, and Safarilink Aviation are just a few carriers flying from Nairobi to Maasai Mara.
The cost of a flight from Nairobi to Masai mara is a minimum of USD 250/ and may extend up to USD 400/one way.
Before purchasing a plane ticket, it's wise to find out exactly what costs are covered by the ticket. Keep in mind that it is possible that checked bags will not be covered.
Propeller planes with a seating capacity of about forty passengers for DeHavilland Dash 7& 8 aircraft to Cessna Caravans are the most common aircraft for flights to Masai Mara. Therefore passengers must adhere to stringent baggage limits.
Different airlines have different policies regarding the size and weight of carry-on bags. Low-cost airlines might demand you check in online and pay for the privilege of picking your seat and ordering food.
Nairobi to Maasai Mara has 242 weekly flights as of November 2022. The cost of a flight from Nairobi to Masai mara is often most affordable in December.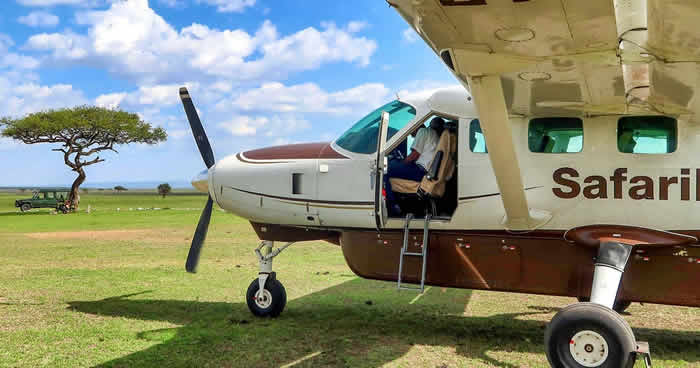 You may find the lowest airfares by following a few simple strategies:
Purchasing a ticket when the airline has a deal will get you the best price. Huge savings are possible, but only if you keep an eye out for sales.
Choose a low-cost airline and book a flight. Some airlines market themselves as budget options. Remember that while their tickets may be inexpensive, the departure time may not be convenient for you.
There are several airstrips in the Masai Mara National Reserve. To save travel time from the airstrip to the hotel, these airstrips are dispersed among the reserve's several regions to serve lodges and camps nearby. Some of Masai Mara's most used airports are listed here.
Musiara
Ol Seki airstrip
Kichwa Tembo Airstrip
Olare Orok Airstrip
Keekorok Airstrip
Siana Airstrip
Angama
Serena Airstrip
Ol Kiombo
Ngerende
Your flying safari will begin with a game drive transport to the lodge in a 4WD upon landing at the airstrip. There are lodges and tour companies that provide this service.