What's not to love about national parks? They offer vast landscapes, tranquil waters, a wealth of animals, and good-old breezes. Appreciating the whole gamut of park opportunities is essential. So, what is the cost of a game drive in Nairobi National Park?
A game drive in Nairobi National Park costs USD 130/- per day. Nairobi National Park is one of the world's few wildlife parks located within a major city. The park covers an area of 117 square kilometers.
An In-depth Guide to Nairobi National Park Game Drive
The Nairobi National Park game drive takes you only seven kilometers from Nairobi's bustling city center to this unique wildlife refuge, where you may see four of the Big 5 (excluding the elephant) against the backdrop of the city's skyscrapers.
These expansive plains region has a forest, stretches of shrubbery, steep valleys, and gorges with scrub and tall grass.
Keep in mind the park's operating hours if you want to enjoy a game drive there. The park is accessible every day from 6 a.m. until 6:30 p.m. That is when the temperatures are ideal for the animals. It is also the time when most animals are out hunting or grazing. However, from around 7 p.m., some tour operators start taking guests on nighttime wildlife drives. All of the vehicles used on the night game drives have high-powered lights to ensure that the visitors get to view all they come to see.
It is essential to factor in all expenses, including transport, food, and the park's entrance charge, while arranging a visit to Nairobi National Park. A wide variety of tour operators offer day-to-day game drives in the park.
Apart from the main entry, located 7 kilometers from the city center, there are other gates on Magadi Rd and the Athi River gate; the latter is helpful if you intend to proceed to Mombasa, Amboseli, or the Tanzanian border. The park's roads are manageable by 2WD vehicles, although traveling in a 4WD is always a good idea, especially if there are heavy rains.
Which Animals Are in Nairobi National Park?
Although Nairobi is a small park, animal migration is no longer possible due to human encroachment. At the park, you can view some exotic wildlife. You will likely see a pride of lions in several locations across the park.
You will also find black and white rhinos in Nairobi National Park. Because rhinos are accustomed to cars, it is common to see a rhino with a young one at close range during a game drive. There are also cheetahs and leopards in the park; however, you rarely see them during the day.
Other herbivores commonly observed grazing includes Giraffes, Buffaloes, Impalas, Zebras, Hartebeests, Ostriches, Baboons, Vervet monkeys, Dikdiks, and more. There are ponds where hippos and crocodiles are.
Other than the ostrich, bird lovers can spot various bird species in the grassland, forested areas, and around the ponds.
Places to Stay After Your Game Drive
There are three public campsites in the park. They are all equipped with power, hot water bathrooms, and kitchens. You can rent a tent if you don't already have one.
Nairobi Tented Camp is the solely authorized accommodation in Nairobi National Park. It is located on the park's west and features nine magnificent permanent tents. Meals get provided in the wilderness, under the stars, or in the dining tent. It is an incredible experience.
The park is also close to the Langata and Karen suburbs. They have various lodging alternatives, ranging from comfortable guesthouses to five-star hotels.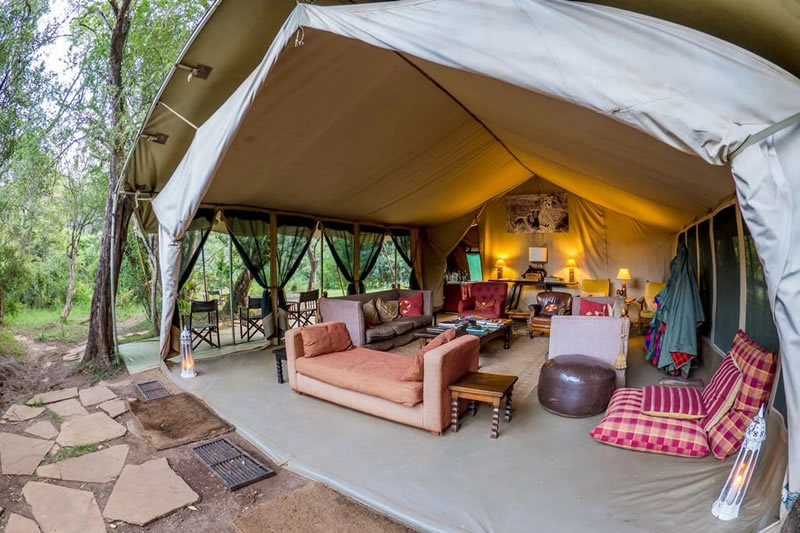 Giraffe Manor is excellent for nature enthusiasts. It is on the grounds of Langata's Giraffe Centre. Apart from the 12 double rooms in stately colonial architecture, this choice suits those fascinated by Rothschild giraffes that roam freely around the grounds.
Nairobi National Park Regulations
Various National Area Rules are in place to guarantee that visitors can enjoy their visit without endangering themselves or the species in the park.
Please follow these rules of the Nairobi National Park during your game drive and obey the park officials who are there to protect people, wildlife, and the environment.
The following are the Park Rules & Regulations:
The park speed restriction is 50km/h, except for Nyerere Park, which is 25km/h.
Animals have the right of way at all times.
Never give food to animals. It will disrupt their diet and lead to an unwarranted reliance on other people.
Only use the permitted tracks.
Picking, cutting, or destroying plants is prohibited, as is removing any object of biological interest, including eggs, bones, and trophies.
Camping is only permitted in specific areas.
Picnicking is only permitted at specific locations.
Quick Facts About Nairobi National Park in a Nutshell
It is the world's closest National Park near a metropolis.
Hosts an elephant orphanage
This park is home to the highest number of black rhinos.
Within Nairobi National Park, there are two more animal sanctuaries.
The National Park is Kenya's first national park.
The Nairobi National Park boasts a tented camp.
Conclusion
Considering the cost of a game drive in Nairobi National Park, the park is absolutely worth visiting for any tourist visiting Nairobi because it is located inside the city limits. That implies you won't have to take a detour to get to the park.
Book your Nairobi National Park tour here.