One of the best ways to see Africa is through a safari as you get to interact with nature at its best. Kenyan safaris range from budget, to mid-range to luxury safaris.  Below is what makes up a Kenyan Budget Safari.
They include;
Number of People on a Safari
As the old adage says, the more, the merrier.  The more you are, the cheaper it will be to move around and get great accommodation deals.
If traveling alone, you can join a group on the same itinerary as yours thereby reducing on costs.
Game drives are usually guided, but you can as well do a self drive if you have the right vehicle for a safari adventure.
Good bargaining skills could knock off a few hundred dollars here.
Type of Accommodation
Camping or staying outside a game reserve will save you serious cash. If you opt to camp, you will, of course, cater to yourself and so you will need to carry food, drinks, and water.
If you are going to the Masai Mara, Narok town is the closest place to get supplies. There're a many camping zones near the main gates of the Masai Mara National reserve and other Kenyan national parks with night fees starting from $10 per person.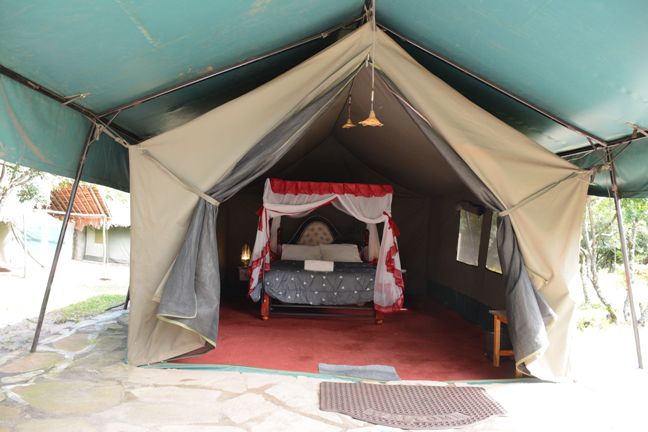 If you are the type to fancy a more permanent accommodation, there are many tented budget lodges in Kenya, such as Lenchanda Tourist Camp in Masai Mara , AA and Kimana lodges in Amboseli and Umoja women camp in Samburu to name a few.
The beauty of these lodges is they are homely feel, with basic amenities to make your stay a bit more comfortable.
Advance Bookings
Making a reservation is both cost and time saving. Flight schedules are generally accessible 330 days in advance with direct flights to Kenya from many European and North American destinations.
Booking your safari trip six to eight months in advance can help you benefit in lower fares, as well as reduced costs for accommodation and logistics.
You may also want to take advantage on seasonal and promos discounts provided by tour operators and travel agencies when booking.
Type of Season
The low season in Kenya starts in April and will run until the month of June. During this period, most of the country experiences the long rain season. The season will pick up again in November until some days to the Christmas festive season.
During this time, agencies and lodges and camps provide great deals for the person traveling on a budget.
When planning a budget safari in Kenya, it truly is value looking at all the seasons and weighing up the costs of each.
For instance, although it's hard to forecast the weather during the month November, it is a best time to witness new life entering the world with impala, topi, and giraffe all calving in this period.  And fresh life forever brings best drama as the big cats begin to circle, waiting for a chance.
Number of Days Spent on a Safari
It might seem hard to accept but sometimes the longer you stay the more cash you keep. Let us explain. Travel agencies in conjunction with hotels and lodges may tailor stay longer deals with the cost lower for a day or night.
Am sure you have seen offers such as "stay for 4 nights and pay for 3" or "stay for 8 nights and pay for 6". This kind of deals are usually during the low season period.
Conclusion
Kenya is a welcoming country rich in wildlife, great landscapes, amazing cultures and great accommodation choices to choose from.
Whichever the season, you are sure to get a package that will suite your budget.
Have a look at our safari packages.