Envision dozing off under the starry African night, with roars and wild creatures around you. All of these are available at Loisaba Star beds. Essentially, a star bed is a bed-on-wheels that is pushed out onto a deck, shrouded in mosquito netting to keep pests and bats off.
It's layered high with warm, comfy blankets to keep the coldness of an African night at bay.
Taking a nap in a star bed is like a sensory overload. Everything you hear—the wind, the bush, the animals; Everything you see, the stars; Everything you smell, the smoke from a fading fire; and everything you feel, the velvety night air—is amplified a thousand times over.
Location
With only four safari suites, Loisaba Star Beds is perched atop a kopje in the wild and isolated Loisaba Conservancy. From this vantage point, sightseers may see across the Laikipia plateau miles on end.
The Conservancy is 57,000-acres in Kenya's Laikipia region. It's home to the endangered Grevy's zebra and herds of elephants, a sizable lion population, wild dogs, leopards, and cheetahs. Undoubtedly, the finest luxury safari experience in Kenya right now.
Loisaba Star beds is an exciting and unique way to see the African wilderness. Moreover, it is highly recommended to everyone interested in having a genuine and personal African adventure.
Starbeds is totally self-sufficient as a camp while being only a 15-minute drive from its sister property, Loisaba Tented Camp. Moreover, its position is perfect, as it overlooks a permanent waterhole that draws a large number of wildlife
Cost of star Bed experience at Loisaba
Nothing beats settling into a comfy bed in the middle of Kenya's unspoiled wildness. To top it all off, Loisaba boasts open-air 'bedrooms' where you can be lulled to sleep by the sounds of the African wilderness under the azure sky.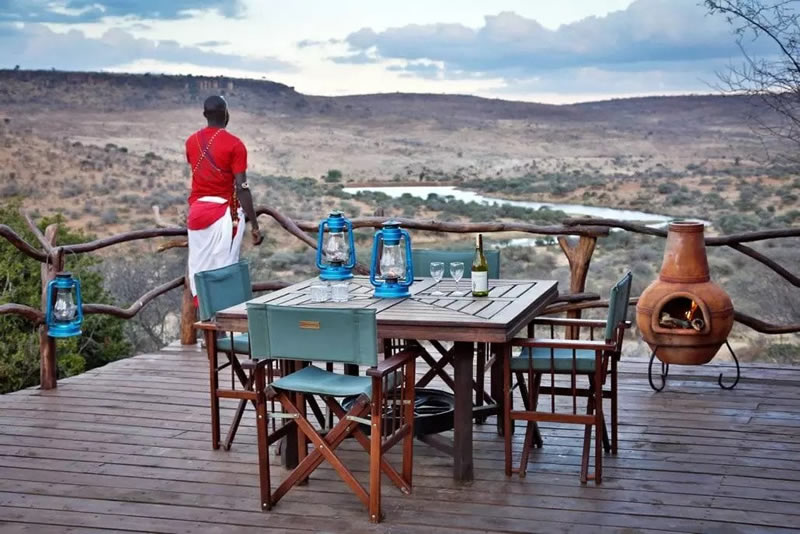 The nighttime calls of lion and hyena are even more evocative when heard from a star-bed, with only a mosquito net and warm beddings separating you from the Night Sky.
But you must be wondering how much is the cost of a star Bed experience at Loisaba. I mean, it all seems like some fantasy, right?
However, you can actualize the fantasy because the cost of a star Bed experience at Loisaba for 3 DAYS 2 NIGHTS AT LOISABA Ground package is USD 1,598/- per person sharing.
This Package Includes
Two nights of full-board accommodation
Shared game drive
Services of a professional tour guide
Return flight
Return airstrip transfer
Park fees
You should do this whether you're in Africa for a genuine safari experience, a fun family vacation, or a romantic honeymoon.
The layout at Loisaba Star Beds
After a long day of exploring the wilderness, relax with friends and family in the main area's comfortable eating and lounging space, warmed by a crackling log fire. Sundowners and intimate candlelit dinners can also be enjoyed on a wooden deck with a landscape view.
Each of the four guest rooms—three with private bathrooms and one with space for a family—features a star bed. The camp also employs traditional Samburu warriors to receive guests and lead them to their dining areas after dark.
Rooms
There are four thatched safari rooms at Loisaba Star Beds, each with a wooden four-poster bed that is wheeled out onto wooden platforms each night (weather-depending, of course). The rustic furnishings complement the thatched roof and natural surroundings.
The actual "starbeds" have become quite the sensation. Each bed in the room is a hand-carved hardwood four-poster covered in a luxurious mosquito net.
Each star bed is uniquely constructed in sync with the natural rocky characteristics. The sitting area and open plan bathroom blends with the surroundings better.
The kopje's rocky contours inspired the design of the open-air showers, which include solar-heated water, and are linked to a basin and a flush toilet, all of which face the stunning landscape.
Guests can spend the night beneath the clear African sky, replete with stars and the rustle of the night's wild animals, thanks to the starbeds, which are wheeled out onto the open verandah by a Samburu warrior.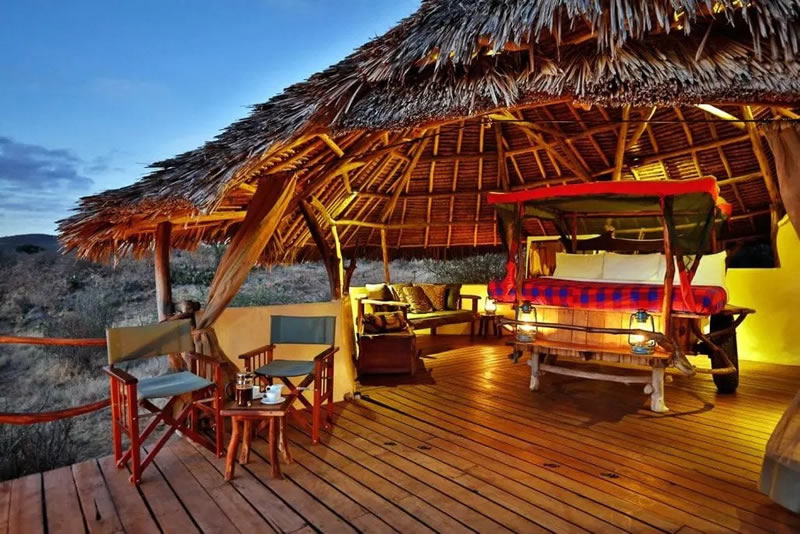 The en suite bathrooms are simple but include all you need, including two sinks, a toilet, a hot water shower, and a window.
There is no compromise on privacy with any of the suites.
Activities 
Loisaba was built for exploration, so tourists' imaginations are the only thing holding them back from discovering all it has to offer.
Activities on this vast property include camel treks through the wilderness, biking down the escarpment, horseback riding through the lowlands, and driving through the canyons.
Tourists to Loisaba can experience authentic Samburu culture by touring a nearby village.
The Samburu people of Northern Kenya are known as a pastoralist tribe with unique and vibrant clothing.
The Game Package already includes the game drive to the Samburu settlement; however, the entry charge that benefits the locals is not included.
A wide variety of wild animals spread out across Loisaba's undulating terrain. Loisaba is a corridor for migrating elephants and is home to a thriving lion population and other northern specialties like Grevy zebra, Beisa oryx, and Somali ostrich.
The endangered wild dog also calls Loisaba home.
Loisaba's fleet of safari vehicles includes specially equipped Land Rovers for photographers. Furthermore, guides have a Bronze or Silver rating from the Kenya Professional Safari Guides Association, and are experts on the region's flora, fauna, and way of life.
The Game Package includes all game drives.
Going on a bush walk instead of driving gives you a chance to get up close and personal with nature. Enjoy the scenery more leisurely while learning to recognize animal signals and tracks on a walk with one of Loisaba's knowledgeable guides.