The answers you get to the question "what makes an unforgettable hotel experience?" from your sophisticated friends and coworkers will likely range from ultra-modern amenities like a gourmet restaurant and a spa to faultless, five-star service and elegant design. At a price proportional to the quality of service and satisfaction provided. So, what is the cost of Staying at Giraffe Manor Kenya?
While on a mission to learn more about Giraffe Manor, we set out to define what exactly constitutes a once-in-a-lifetime experience.
Since your stay at Giraffe Manor will likely be the only one of its kind, I want to ensure that you have everything you need to know to have an amazing time.
I bet you're curious about Giraffe Manor before we go into the specifics. But what's the big deal, anyway?
What is the cost of staying at Giraffe Manor?  Please don't stop reading; We've got answers to all your questions!
History of the Giraffe Manor
The Giraffe Manor is a boutique hotel where guests get treated like family and where the resident herd of Rothschild giraffes has gained international recognition.
It was constructed in 1932, but in 1984 it was converted into a country inn. The hotel's land is mostly taken up by the Giraffe Centre, where a herd of docile giraffes freely strolls. They flock to the house and garden every day to be fed food through the glass windows.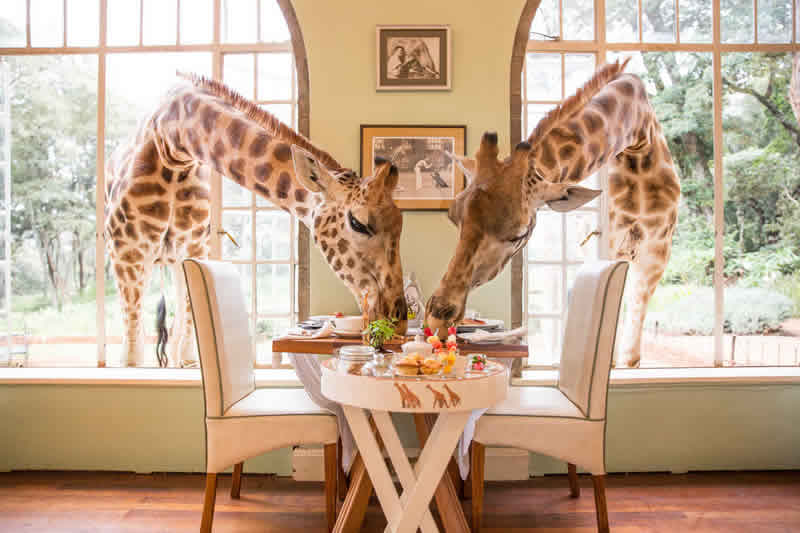 Giraffe Manor, a guesthouse in the Karen neighborhood to the south of Nairobi, was established in 1984 by American naturalist Betty Leslie-Melville and her husband, Jock. The current owners purchased it in 2007.
The hotel's original building was designed in the style of a Scottish hunting lodge, and it now has two main buildings: the Giraffe Manor or Main Manor, with six rooms, and the Garden Manor, a six-room annex designed to complement the original that was finished in 2011 and expanded by two more rooms in 2017.
Giraffe Manor has a style that is halfway between playing at being a lord and actually being one. While the building has a quite formal air to it, the management team has a relaxed, casual approach that puts the comfort of their guests first.
What is the Cost of Staying at Giraffe Manor?
What does Giraffe Manor cost, and is it WORTH IT? It costs USD 850 per night to stay at Giraffe Manor. I can imagine what you're thinking. For ONE night, $850?
Oh, sure. Worth every single dime. Always keep in mind that this is a once-in-a-lifetime opportunity. How many people can claim to have had breakfast with giraffes?
Transportation to and from Nairobi's airport is included in the cost. There are also 3.5 meals included in it: breakfast, lunch, supper, and tea.
Additionally, your money is helping a worthy cause. The staff is utterly Incredible, and you are more than welcome to give a larger tip at the end of your stay.
The Safari Collection is even more committed to luxury, eco-friendly travel and educating the public about wildlife protection. That substantial sum of cash isn't only going toward your Instagram-worthy shots; it also contributes to the giraffes' survival.
I think it's worth spending money on experiences, and if going to Giraffe Manor is at the top of your list, you'll have priceless lifetime memories.
How A Day at Giraffe Manor Looks
Giraffe Mansion arranges transportation to and from the manor. A visit to Giraffe Manor begins in style, with a private chauffeur in a luxurious van picking you up.
Check-in begins at noon, and no early check-ins are permitted. You'll arrive just in time for a great lunch and some time to settle into your room and become acquainted with the property before meeting the giraffes for the first time. That is the best time to visit the gift shop, relax at the spa, or mix with the other guests.
Tea preparations will begin about 5-5:30 p.m. The staff provides an exquisite array of pastries and fruits to accompany the tea. Giraffes emerge from the trees in front of you before you know it. They keep their distance for a long before approaching since they have a strict schedule and know EXACTLY when it's time to eat!
You'll spend about one-hour feeding giraffes and photographing them in front of the manor and on the Instagram-famous swing. They'll ultimately fill up at about 6:30 p.m. and leave just as you prepare for supper.
Dinner will be another delectable four-course dinner. After dinner, you should go to bed early because you have an early wake-up call.
The giraffes will be outside your window before it's even light out the next morning, as early as 5:30 a.m. Before going downstairs to breakfast, you can feed them from the balcony with a food bucket in your room.
The giraffes eat first, and you'll get those classic shots by the windows you probably swooned over on Instagram before arranging your trip! Everything will be cleaned when the giraffes go because they are a little rough. Then you'll be given a selection of various delectable breakfast alternatives.
Conclusion
Giraffe Manor is one of the most well-liked luxury hotels in Kenya. With acres of forest sanctuary to explore, this unique hotel offers the ideal setting. And the giraffes, of course. They are, and deservedly so, the center of attention!
So, is Giraffe Manor worth a visit? That would be an unequivocal YES, in our opinion!
Run right now and reserve your stay at Giraffe Manor Hotel Kenya, regardless of whether you are a first-time traveler, a frequent traveler, or a resident of Kenya! Hurry; reservations are frequently made months in advance. Travel safely!